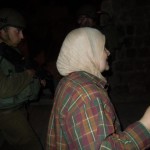 19th May 2013 | International Solidarity Movement, Team Khalil | Hebron, Occupied Palestine
UPDATE: Zleikha was released from custody at around midnight, on the condition that she reports back to the police station today.
During Zleikha's interrogation, an Israeli settler was brought by the Police and asked, 'is this the woman who threw stones at you?' to which she replied 'yes'. This fundamentally flawed method of identification further illustrates how far removed the Israeli military is from any credible system of justice.
———————————————————————–
Zleikha Muhtaseb being arrested from her … Continue reading