Solidarity visit to the Nur Shams camp, following the deaths of Abdulrahman Abu Daghash and Oseed Farhan Abu Ali, killed by indiscriminate Israeli Occupation Forces shooting during the raid on Sunday 24th September.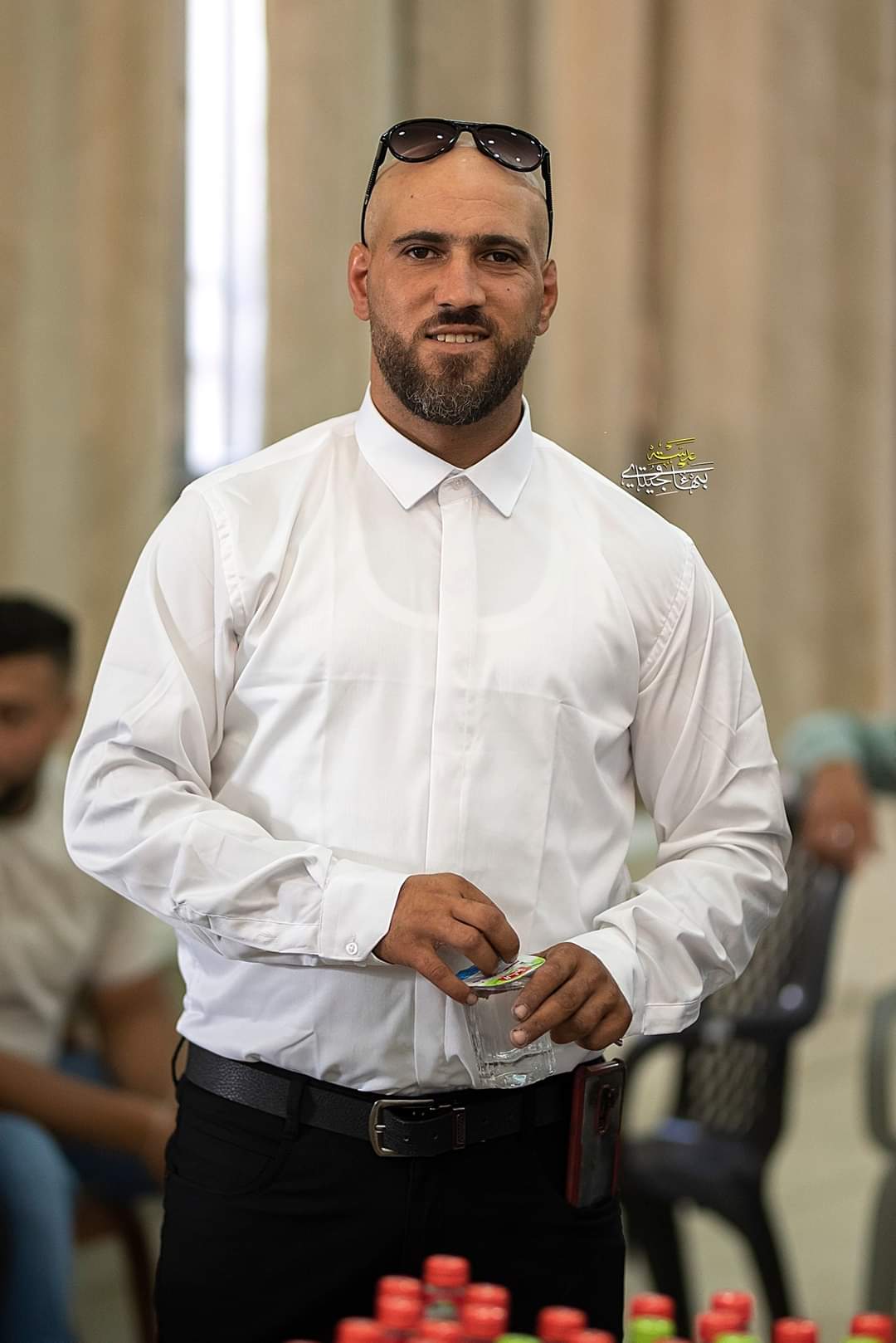 It's hot, it's the third day of mourning. There is a constant flow of visitors in the home of Abdulrahman Abu Daghash. Mohmen, his brother takes us upstairs to his upper-floor flat in the family house. But first we go to the roof terrace to see. Not for the view, but to see the broad smears of blood left when Abdulrahman was killed.
Mohmen tells us:
He had gone up to see what was happening, I was telling him come inside, it's dangerous. He falls forward, I try to hold his body, I can't do it, I have blood on my hands, maybe I was hit. No, he is the one bleeding, I call for help. My wife and his wife – seeing him lying on the roof – can't react. Finally someone helps me, the ambulance is called. Now that we get down the ambulance is already there, they always go around during the raids. But soldiers have arrived with sound bombs, they try to prevent the ambulance from going. It finally manages to leave, but we stay barricaded in the house for another hour and a half, besieged by soldiers.
Mohmen told us about his relationship with his brother:
We used to work together, we were very close, I don't know how I will cope now he is gone, his children will be like my own.
We meet Abdulrahman's father in the mourning are set up in the courtyard. He said:
You have to tell everyone how they treat us, he had nothing to do with it, shot by a sniper who was doing target practice, couldn't he have shot at at the shoulder? he was aiming for the eye. My son died in the hospital!
It seems the result of the murder is to bring everyone together, they will be more and more active against the occupation.
We leave the grieving family, and visit the family of another martyr. It's very hot, it must be one o'clock, we might find a cab, but there are five of us, we don't fit, so we keep walking, luckily we started off high up on the hill, the sniper had fired from a lower roof. So we go down and up again heading for the central square of the camp. Such destruction! The army of occupation had left a gutted building from a previous invasion, the streets torn up.
Then, on a corner between narrow alleys: the second house. There are only women here, but they accept me and T. Come on, we wipe off our sweat, in the rear room we are received by the mother and sister.
Aseed was only 21 years old, he was like all the boys here, he dreamed of being a writer, of making his mother happy, he was like everyone here, they despise death, so what kind of life is this, in one month two raids
Even on the third day of mourning there are many outbursts of weeping. After we have paid our condolences, however, food arrives, a smiling woman says she cooked. She wants us to eat with them to remember Aseed. So many tables are set up, everyone tucks in, besides yogurt and humus, there are pans with minced meat in strips seasoned in different ways.
So what's the background here? Around midnight between Saturday and Sunday, massive occupation forces attacked the Nour Al-Shams refugee camp, adjacent to Tulkarem. Dozens of vehicles, supported by three bulldozers, equipped with a kind of rear plough. These are adapted to penetrate the roads, break the asphalt and the water and electricity pipes. In Jenin, they had been caught out by the explosives hidden under the asphalt, which had severely damaged their vehicles. Now the explosives are throw them at them, but now they always enter the camps with these contraptions to destroy what they can. In Nour Al-Shams the last raid had been only 20 days earlier and they had not yet finished repairing the damage. Alarm sirens sounded immediately, the resistance fought for four hours, with barrages of fire, explosives and ambushes on the army that soon needed reinforcements.
As always, nothing is known about Israeli casualties and the damage to military vehicles. A few vehicles had to be dragged out. They severely damaged one building using rockets, it had been the home of a boy who was killed in 2001. They claim fighters were hiding there and explosives had been stockpiled; unlikely to be true because everything would have been blown up.
But where are we? In Tulkarem, a northern town attached to the separation wall. We are only a hundred meters above sea level, at the mouth of some valleys. Of course, there are a few settlements around here, too. So low compared to Nablus, it is much warmer and also more humid.
A. lives on a hill that divides two descending valleys, however, to get some air you have to arrive almost in the morning. From his rooftop, he points out the two refugee camps, one on each side: "Nour Al-Shams" further east, "Tulkarem" to the west attached to the city. Many workers are cross-border, but here the Israelis have also set up a dozen factories. Workers come from here, but management comes in directly from the other side.
Before visiting the martyr's families we attended a demonstration for the prisoners, with many children.
The agricultural part has several greenhouses, in the past, there were also many orange trees, but the construction work on the expanding town devoured them.
By Abu Sara, for ISM