December 31 | International Solidarity Movement | Olive Harvest journal 
The olive harvest in Palestine (October – November) represents much more than simply picking olives. While it is an important contributor for the income of thousands of families in the West Bank – with a revenue between $160m and $190m in 2021 according to Aljazeera – it is also a symbol of resistance and defiance towards the occupation. Families come together in the fields and endure and resist systematic harassment by Israeli soldiers and settlers. Settlers notoriously insist on watching olive pickers, throwing stones at them and often attacking them and their vehicles. The IOF regularly allows this behaviour, protecting settlers during these actions, and being an aggressor itself.
Most of the olive trees are situated in Area C of the West Bank, which is under full Israeli control. Some private Palestinian lands are inside the apartheid wall or inside illegal settlements, or they are very close to Israeli military areas or settlements. In these cases, farmers need a permit issued by the Israel administration to access their land and harvest. Farmers are normally given 2- or 3-day access permit which is not enough to finish harvesting all the olive trees. In the rest of the areas, there is a coordination programme through the Israeli-Palestinian district coordination offices (DCO) for farmers to ask for a permit. These permits are sometimes refused even on lands far from settlements.
International activists joined Faz3a, a Palestinian youth-led campaign that supports Palestinian farmers during the olive harvest, other organizations and Palestinian families to show solidarity and support during this season. Their presence is a reminder that the international community is aware and documenting the disgraceful treatment of Palestinians.
ISM activists joined farmers in many locations across the West Bank for the 2022 olive harvest. This is what they witnessed:
Al-Janiya, west Ramallah
More than 30 Palestinians, Israelis and international activists joined the Faza3 campaign on their first day in the fields this year in Al-Janiya village, west of Ramallah.
We were there to support the farmer Abu Mohammed who hasn't been able to access his land since the first intifada. His land is at the edge of three settlements surrounding his village from east, north and south.
Abu Mohammed told activists that every time he tried to reach his land the settlers would attack him and prevent him from entering. His cousin also said that one day Abu Mohammed's father was attacked by settlers throwing stones, hitting him in his head. He was seriously injured and died a few months after the settlers' attack.
All day ISM activists on the ground were followed by a drone from a nearby settlement filming their work and movements. Despite this, activists managed to harvest a good part of Abu Mohammed's land without settlers interfering or attacking, which proves how important international solidarity and campaigns like Faza3 are.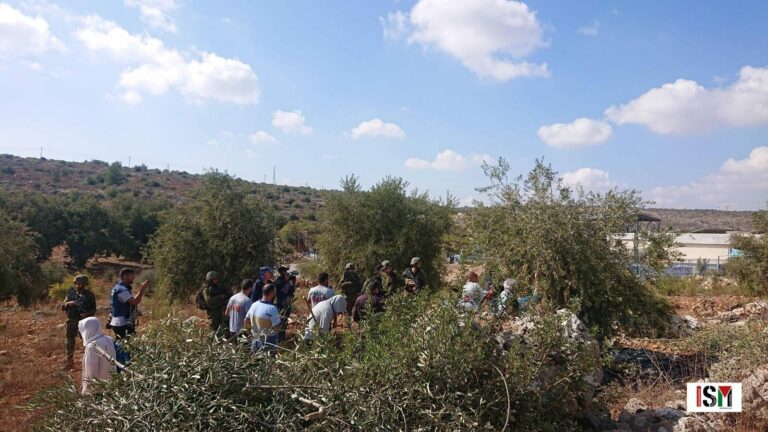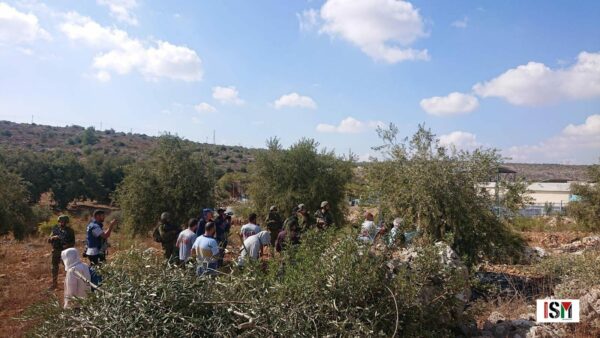 Burin, near Nablus
ISM activists joined Faz3a, with Palestinian and Israeli activists, in the village of Burin, near Nablus, to help the farmer Abu Jamal, a young owner of a olive field attacked several times by Ytzar settlers who also burned his house. We had a successful harvest day and enjoyed the food Abu Jamal's wife prepared for us. We also met his child, a two-year-old boy who was recently terrorized by settlers. Abu was able to rescue his child, but the settlers attacked and set fire to his car.
Hares, near Salfit
In Hares, near the West Bank town of Salfit, activists joined Faz3a to harvest. The farm was near the illegal settlement of Rivava. The farmer asked for help as he had not received his permit yet, but he believed it is still his right to go and harvest his land.
IOF arrived soon after we started and tried to chase people away. They inspected documents, took pictures, told the farmer where we could and could not go, giving us "only 5 minutes" to finish harvesting olives from this tree or that tree. We worked hard trying to ignore them and we had a very successful harvest under the constant watch of the army.
Husan, near Bethlem
ISM activists joined Palestinian farmer Shireen for the olive harvest in Husan, 19 km from Bethlehem, up on a hill several times besieged by the army. The field has already been burned 6 times (Shireen has lost more than 100 trees) by the illegal settlers of Beitar Illit, who also stole many donums of land. This year, settlers protected by the army stole more land and dumped earth and boulders over olive trees in order to build an Israeli security control station. While the land already taken is becoming a large road to connect Better Eleet with another illegal settlement.
On the second day, we found a big tree had been cut down and big stones thrown at her property. This time there were no physical assaults, but nonetheless, settlers caused deep suffering and frustration. Shireen will file a complaint, but to whom if the prime offender is the Israeli government?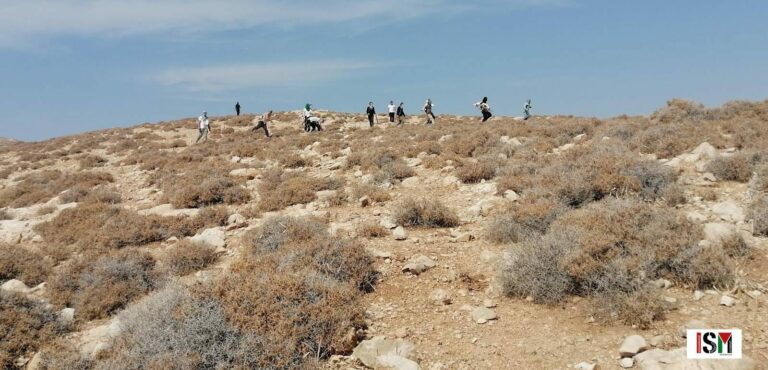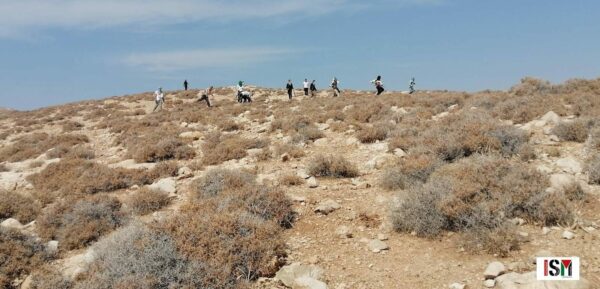 At-Tuwani, Massafer Yatta
IOF threw tear gas and violently disrupted the olive harvest in at-Tuwani, a small village in the Massafer Yatta region in the south of the West Bank. More than 50 Palestinians, internationals and Israeli volunteers took part in an olive harvest event organised by Faz3a and the Ministry against the Wall and Settlements in the valley of Humra, near at-Tuwani.
Farmers from the village are exposed to settler violence and harassment neighbouring the 1981 illegal settlement Ma'on and its early 2000's expansion, the illegal outpost Havat Ma'on.
Not long after arriving at Humra and starting to pick olives, the first settlers showed up, quickly followed by Israeli army and police. Five army jeeps with around 20 soldiers and around 15 settlers were there. Palestinian activists went to the edge of the field facing the army and settlers, raising Palestinian flags and chanting their right to be on their land and in Palestine.
The army reacted violently by throwing tear gas at the crowd, making it impossible for people to stay. Most people were forced to stop and only a small group remained to harvest.
Jibya, north Ramallah
A Palestinian activist was injured and over 12 cars were smashed by settlers in Jibya, north of Ramallah.
ISM and Faz3a activists, joined by international journalists, went harvesting near an outpost of the Israeli settlement of Halamish. The farmer appealed for help because he faces systematic attack from Israeli settlers. He tried to harvest his land a couple of days earlier but was harassed by settlers.
Soon after we started, a group of settlers with M16 arrived, taking pictures of everyone to provoke us. Army and more settlers also joined. Settlers were asking where everyone was from and why we were there, and army tried to remove us saying the area was a closed military zone. People then heard women crying and shouting: settlers had gone down the hill and threw stones and smashed the parked cars' windows. One of the activists who was on the scene filming and telling the settlers to stop attacking, was injured as he fell on a piece of metal that cut his leg while trying to reach security and he needed 15 stitches.
Khalet, a Faz3a activist, said: "This happened under the watch of the Israeli army. The settlers were armed. We were peacefully activists and volunteers who came there just to help the farmers picking olives."
Bidu, south-west of Ramallah
Around 40 volunteers, Palestinians and internationals, joined a harvest organised by Right to Movement in the village of Bidu, near Ramallah. We had a successful day with plenty of olives harvested.
The farmer is suffering as two of his sons are unjustly imprisoned by the Israeli occupation and the family in general face difficulties due to the occupation.
Kafr Qalil, south of Nablus
ISM activists joined the Suleiman al-Quni family in Kafr Qalil, south of Nablus, to assist in harvesting their land. The Israeli government granted them permits to harvest on 2 days.
The land is on a hill and valley overlooking the main road into Nablus, near the settlement of Bracha. During the harvest the pickers were watched constantly by a small number of settlers and 6 IOF soldiers, but the day went well without incidents, in an area that is often on the receiving end of harassment.
Kafr al-Dik, west of Salfit
We joined Ali Nassar, a Palestinian farmer from the town of Kafr al-Dik, west of Salfit, who has an olive field near the settlement of Alie Zahav. Kafr al-Dik's land was confiscated for building Alei Zahav. Ali has around 120 olive trees. We harvested close to the settlement without any issues.
Burin, near Nablus
ISM activists joined Faz3a in the village of Burin, near the Yitsahar settlement. The elderly farmers we were there to help had been attacked and chased off their land the previous day by settlers, and the elderly woman was limping as a result. In the end, the couple were too afraid to take us harvesting because they were threatened by settlers not to return, especially with international support, unless they'd coordinated with the military.
Atara, north of Ramallah
We harvested in Atara Spring, very close to the illegal Israeli settlement of Ateret, which is currently being expanded.
ISM members were helping to harvest on behalf of the land owners who were attacked on multiple occasions last year whilst harvesting, so were afraid to harvest this year.
On multiple occasions, the settlement security stopped to ask what we were doing, if it was our land, and told the Palestinian farmer not to make a mess and to keep the road clear. At one point two settlers stopped their car to get out and watch us.