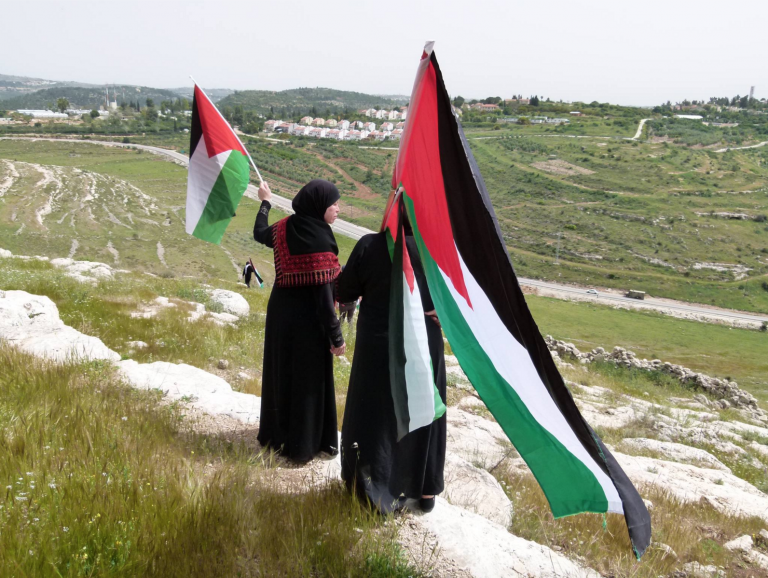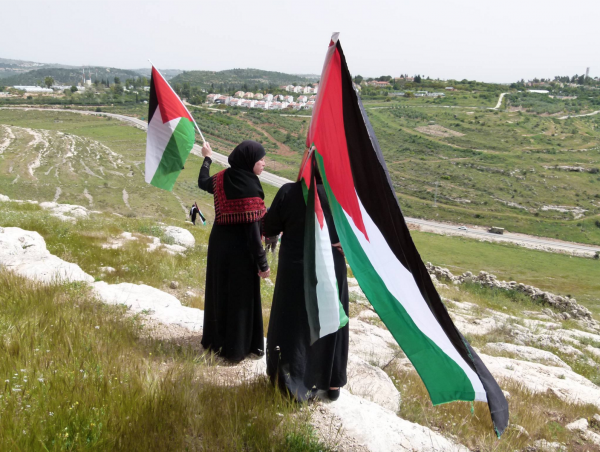 8th of April 2016 | International Solidarity Movement, Ramallah team | West Bank, occupied Palestine
As on every Friday a group of Palestinians, supported by Israeli Peace Activists, Internationals and with an international media presence, came together in Nabi Saleh after midday prayers to protest the continued illegal occupation of Palestinian land by Israel.
In Nabi Saleh, Israel have taken and continue to deny Palestinian access to a well that lies between the village and the illegal settlement of Halamish. The weekly demonstration is a family-orientated affair involving many women, men and children whose farms and day-to-day lives have been severely affected by the lack of access to the water from the well. The protestors continue to demand an end to this gross abuse of the most basic of human rights.
There are two routes the protest can take but after excessive force and violence used by the Israeli Occupying Force at the previous demonstration, it was agreed by all present to take a potentially less dangerous route heading towards the top of the hill that faces the settlement and to proceed toward the well below it.
Led by the women and young girls the procession reached the top of the hill where the first sighting of  the soldiers caused a brief pause. The protest moved carefully and slowly down the hill towards the road that intersects between the village and the settlement, still led by women and children,  chanting, clapping and waving flags.
At this point the army fired three rounds of the deadly and extremely dangerous, long range, large, rubber-tipped bullets that separate in flight to release tear gas. This caused the protestors to pause their descent of the hill, however they did not disperse. As a result the army fired three more of the long range bullets, designed to pierce houses, directly at the protestors, although thankfully not hitting anyone. This did send them back to the top of the hill where they stayed back from the tear gas.
Leah, an Israeli activist attending the demonstration, looking down the hill to the soldiers said "I am ashamed of my country." Having served in the army as a teenager she had seen the daily human rights abuses up close and now attended protests every week against the occupation and the conduct of the occupying forces.
Mohammed, a villager of Nabi Saleh, looking out over the gas stated "this isn't about Palestine and Israel. Israel is just the face of the colonial and capitalist powers." He hugged internationals, thanking them for coming and shook Leah's hand as the protestors finally walked back to the village.
The Israeli Army continue to use the long range tear gas bullets, impossible to see when fired and potentially deadly if making contact with anyone and they continue to use them from inside the legal distance for firing.
For more information on the deadly long range weapons being deployed by the army at protestors see: http://bit.ly/1YiNt6X
And for a detailed report into previous human rights abuses at Nabi Saleh see: http://bit.ly/23oJxVJ