December 17th, 2015 | International Solidarity Movement, al Khalil team | al Khalil, occupied Palestine
On Thursday, December the 17th, hundreds of Palestinians in occupied Al-Khalil (Hebron) gathered to protest against Israel's policy of withholding the bodies of Palestinian martyrs killed since the beginning of October.
The peaceful demonstration started at Haras Mosque and continued towards Ibn Rushd roundabout with many martyr posters, signs, Palestinian flags and chanting. Many friends and relatives of the martyrs were present, mourning the loss of the more than thirty martyrs from Al-Khalil and more than 123 martyrs from all around the occupied Palestinian territory killed since the beginning of October this year.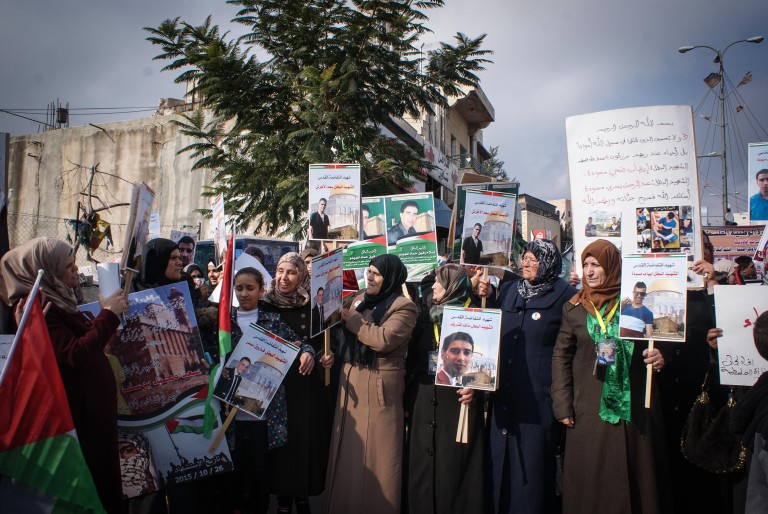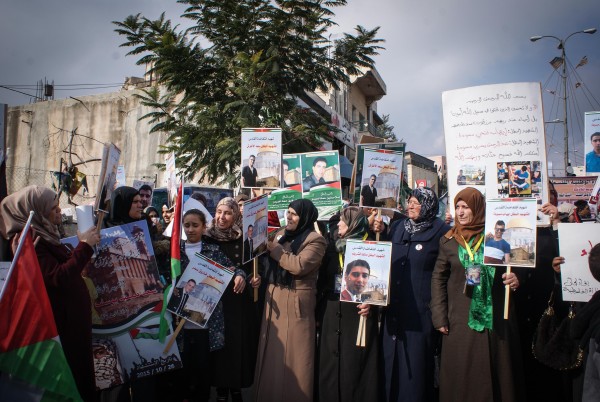 The demonstration was organized by the movement "We need our children" (Bidna awladna). This movement was created recently on the initiative of the families of the martyrs in Al-Khalil to demand the release of Palestinian bodies, still being kept in Israel. This unlawful policy not only violates international law but also denies the families the right to mourn the loss of their husbands, sons, mothers and daughters. "Some of the mothers haven't realized that their sons are dead. Some times the fathers try to call their sons on the mobile", a brother of a martyr explains.
For the past two weeks a solidarity tent has been established near the Haras mosque in order to create a space for the families to mourn, share the pain and support each other. Not only the relatives waiting for the return of the martyr's bodies are present in the tent, but also the relatives, who already received the bodies of their loved ones, attend the tent in solidarity, as the father of Dania (17 years) and Udey Irsheid (24 years) who both were killed by Israeli forces in the last two months.
The policy of withholding the bodies of killed Palestinians constitutes another measurement in the collective punishment against the Palestinian people, which is illegal according to international law.