25th September 2015 | International Solidarity Movement, Al-Khalil team | Kafr Qaddum, occupied Palestine
Palestinians in the village Kafr Qaddum in the occupied West Bank endured an hours-long siege by Israeli forces earlier while demonstrating against occupation, ending in a 3 year old Palestinian girl and daughter of Nablus police chief, Colonel Abd al-Latif al-Qaddumi being shot in the face with a rubber coated steel bullet as she stood on the balcony of her family home.
Both the girl, Maram Abed al-Latif al-Qaddumi, and her father who was subsequently also shot in the head with a rubber-coated steel bullet as he rushed to aid his heavily bleeding daughter, were treated at Rafidia Hospital and released.
For three hours, Israeli forces and Israeli border police had Palestinians, journalists and international human rights monitors trapped along a village road in several houses along with a local Mosque, as every time a Palestinian stepped into the road, rapid fire rubber coated steel bullets, foam bullet projectiles, live ammunition, sound bombs and teargas canisters fired from venom trucks were showered into the street.
Three times the Israeli military skunk truck entered the village road spraying organic waste water at homes where Palestinians were taking cover from the violent assault.  For several hours after the dousing of the foul smelling composition in the village, Palestinian families were seen scrubbing the streets in front of their homes to remove the smell that lasts for up to ten days.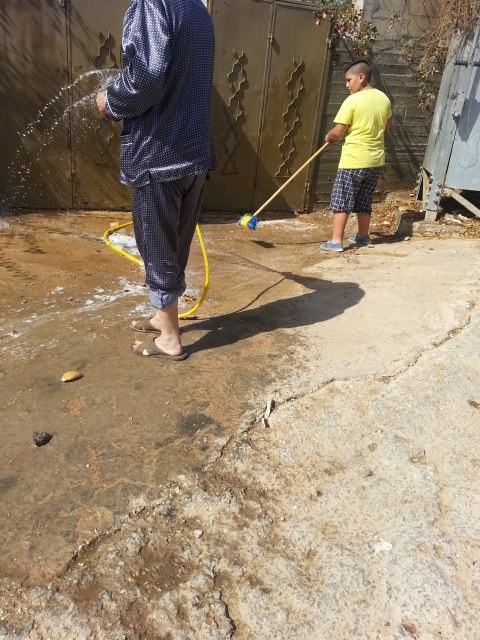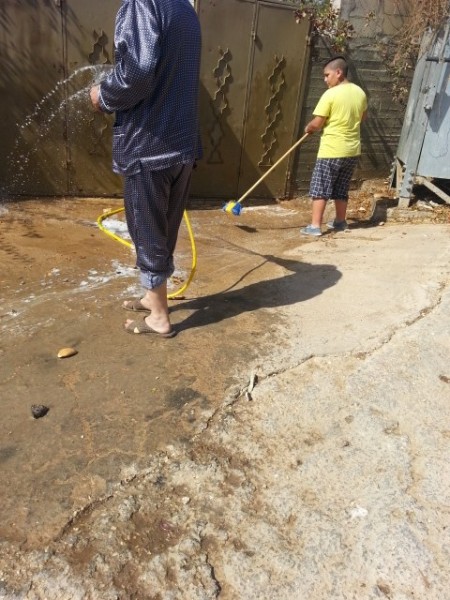 Instances of extreme violence against Palestinians have circulated throughout the West Bank this week after Israeli forces murdere 18 year old unarmed female Palestinian student, Hadeel al-Hashlamon, at an al-Khalil checkpoint near segregated Shuhada Street and Ahmad Izzat Khatatbeh, 26, died from his wounds after being shot three times in the shoulder, chest and abdomen at the Beit Furik checkpoint last Friday.  These murders accompany a sharp rise in house raids, street harassment and settlers attacks including on a Palestinian shop in al-Khalil and settler machine gun fire on Palestinian homes in the Qeitun neighborhood.