28th October | Operation Dove | Um Al Kheir, Occupied Palestine
Yesterday, Israeli forces demolished a total of seven structures in the Bedouin village of Um al Kheir. The structures demolished are, three houses made of concrete, a caravan donated by the United Nations (United Nations Human Rights Response Fund with the support of Ireland, Norway, Spain, Sweden, Switzerland and United Kingdom) to be used as a home, a tinplated house, a tinplated kitchen, and a traditional oven.
The structures belonged to five families, with a total of thirty people affected. An Israeli activist and an international volunteer were brought and detained in Kiryat Arba Israeli police station.
At 9:20 am a convoy of eleven Israeli army vehicles and two bulldozers reached the Bedouin village of Um Al Kheir. At 9:34 the bulldozers started the demolitions while Israeli soldiers, border police officers and DCO [District Coordination] officers kept Internationals and Israeli activists away from the village, declaring it a, "closed military area".
Around 10 am the Israeli police arrested an international volunteer and an Israeli activist with the accusation of remaining inside the area. Both were released during the same day.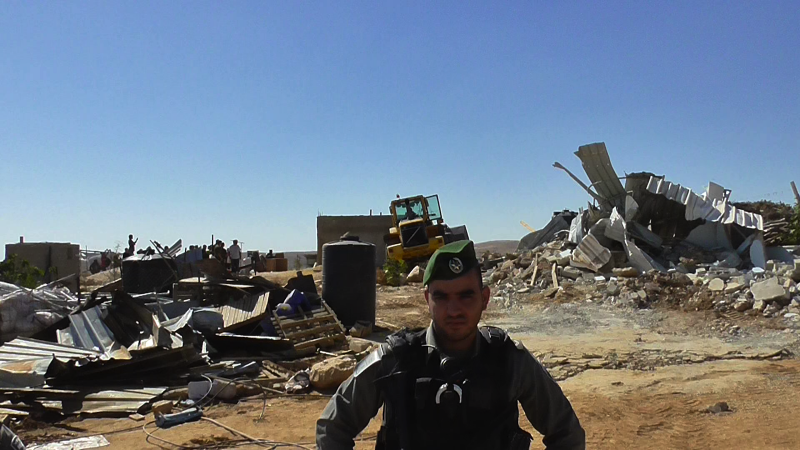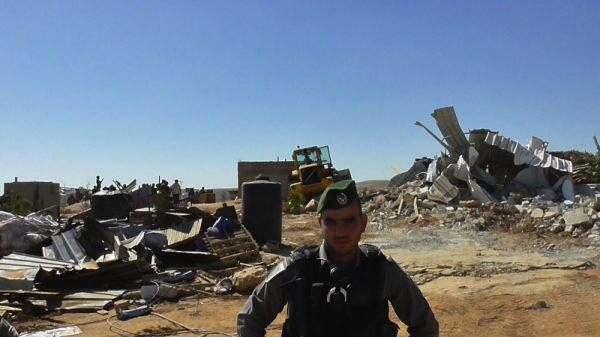 Um Al Kheir is a Bedouin village in Area C, under Israeli civil and military administration. It's located very close to the illegal settlement of Karmel, established during the beginning of the '80s and expanded in the recent years, especially in 2013. The village routinely experiences harassment from Zionist settlers and the Israeli army.
Palestinians from the South Hebron Hills keep struggling in a non-violent way to claim justice and to defend their human rights. The South Hebron Hills Popular Committee, together with international volunteers and Israeli activists, will soon gather to re-build the demolished structures in Um Al Kheir.
Operation Dove has maintained an international presence in At-Tuwani and the South Hebron Hills since 2004.