2nd August 2013 | International Solidarity Movement, Ramallah Team | Ni'lin, Occupied Palestine
Israeli army represses demonstration in Ni'lin as it marks the five year anniversary of the murder of ten-year-old Ahmed Mousa and  seventeen-year-old Youssef Amirah. Demonstrators remain defiant after five years of stolen land, illegal settlements and brutal killings of five members of the village and countless injuries.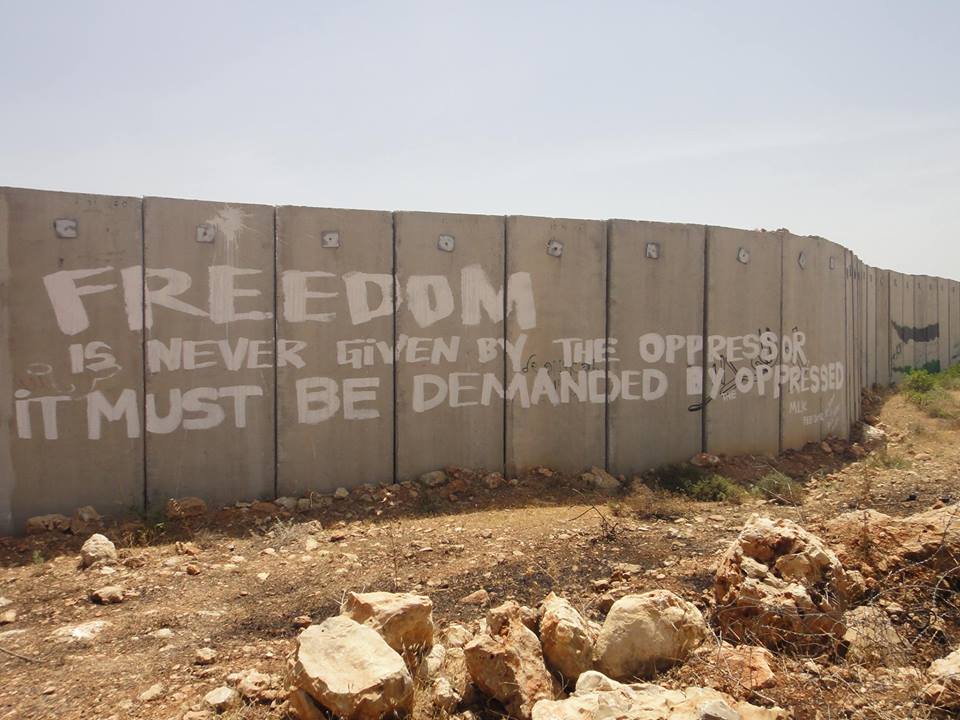 On a hot Friday the 2nd of August during Ramadan, around 40 Palestinian demonstrators accompanied by internationals and Israeli activists gathered for the afternoon prayer in the olive field. At around 1.30pm The demonstration started as people marched towards the illegal annexation wall that steals 2500 dunams of land. The demonstration started in 2008 against the wall's construction, but have continued unrelentingly after the construction was finished. The demonstrators chanted in Arabic as they approached the wall.
Israeli occupation soldiers hid behind the wall carrying riot shields and weapons as they looked over, ready to fire on the peaceful demonstrators.
Journalists and demonstrators who approached the wall had sound bombs dropped on them, before the army fired barrages of tear gas canisters. Some of the tear gas canisters started fires in the olive field including one tree where the canister got stuck in the branches. Later in the demonstration the amount of tear gas canisters that were fired stopped demonstrators from coming closer to the wall. Rubber and plastic coated steel bullets were also routinely fired.The demonstration finished around 3.00pm when demonstrators decided to withdraw.
This Friday marks the week of the end of July that is the five year anniversary of the murder of Ahmed Mousa and Youssef Amirah. Ahmed was shot in the head with live ammunition on the 29th of July 2008, Youssef was killed the day after when at Ahmed's funeral he was shot with a rubber-coated steel bullet in the head by Israeli occupation forces. Omri Abu, an Israeli border police officer, was put on trial in a rare case when Palestinians are murdered by the army. He was later acquitted by an Israeli court for 'causing death by negligence' on the grounds that there was no proof beyond a reasonable doubt that his bullets were the ones that hit Ahmed in spite of acknowledging that he tried to cover up the evidence by ejecting the cartridges from his rifle and claiming that he did not fire at all.
The complete lack of justice in the trial was expected by the people of Ni'lin who have suffered much pain with the deaths of their five shaheeds and countless injuries, but continue to resist.