by Sunny
8 May 2012 | International Solidarity Movement, West Bank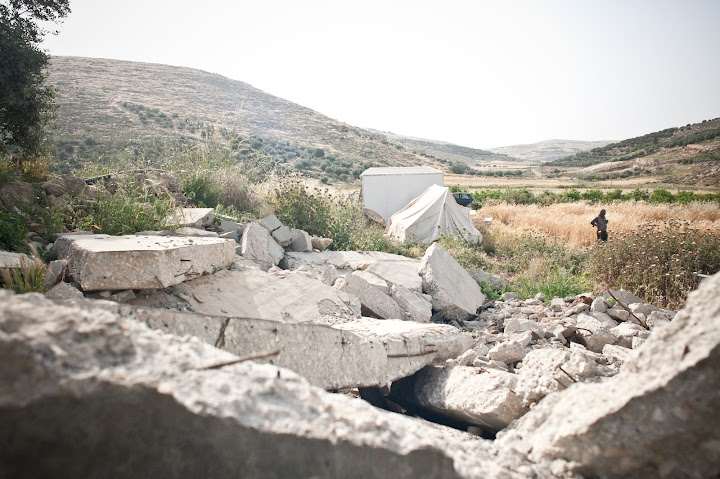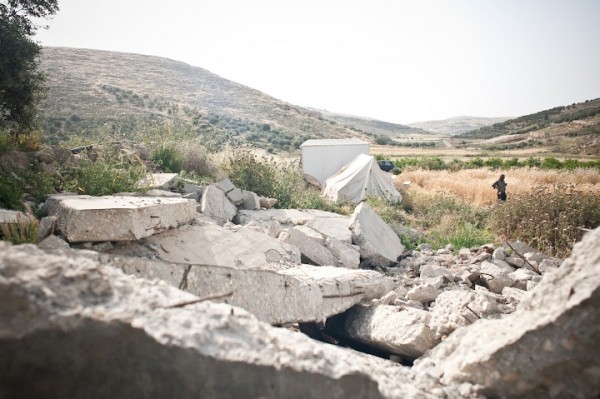 On Monday, May 7 in the southern West Bank village of Idhna, Mohamed Temezi was busy working on his caravan home. Israeli Occupation Forces (IOF) arrived unexpectedly and subjected him and his wife Faizah Temezi to a 3 hour ordeal in which they were detained, and beaten. Their new home was threatened with demolition.
The United Nations Office for the Coordination of Humanitarian Affairs (OCHA) provided the caravan for the Temezi family. They have experienced house demolitions on two previous occasions by the IOF. The first demolition was in 1989 and the second 5 months ago in December 2011. Both took place in the West Bank village of Idhna. Prior to the arrival of the caravan, Mohamed, Faiza, and their son had been living in a tent.
Now the Temezi family may be facing the loss of a third home. Israel issued a demolition order for their caravan dated May 29, 2012.
Currently, Mohamed is subject to weekly visits by the IOF, threatening that if he does not cease building his home that they will forcibly confiscate it. Mohamed tells the IOF that he will rebuild his home if it is destroyed. Their reply, says Mohamed, is that they will simply demolish it again.
The Temezi family complain of regular harassment and taunting during the weekly Israeli army raids.
On Monday, 8 soldiers arrived at Mohamed's caravan site and threatened him with arrest if he continued to build. Mohamed refused to comply and was detained alongside his wife, inside the caravan.
During the detention, they were both physically and verbally assaulted. Mohamed was struck by a soldier's personal radio on his scalp on various occasions while being verbally assaulted. At one point, Faizah attempted to safeguard their electric motor which Israeli soldiers were attempting to confiscate. IOF responded by wrapping cable wire around her neck and forcefully pushing her head into the wall.
As the violent behaviour continued, the Israeli soldiers seized all remaining tools in the house as well as 300 metres of cable which the family required for electricity. There has been no electricity in the house since.
After 3 hours, as soldiers left, they again threatened Mohamed of the consequences of continuing his work. The equipment the IOF stole from Mohamed is valued at some 7000 NIS (approximately 1420 Euros or 1830 USD). Among the equipments seized are those required for access to the sewage system.
This is the first time that OCHA has supplied displaced Palestinians with caravans. The project has also assisted three other families in the valley of Idhna. OCHA also supplied Mohamed with two workers and 41,000 NIS for equipment to construct access to basic amenities such as water and electricity.
OCHA have been informed about the incident, however action has not been taken.
Mohamed has been held under administrative detention (no trial, no charge) on 7 occasions for a total of almost four years. The Temezi family say they fear this visit was not the last, and that they do not want to lose their home a third time. This unwanted prospect may become reality on May 29.
Sunny is a volunteer with International Solidarity Movement (name has been changed)