by Sydney
16 April 2012 | International Solidarity Movement, West Bank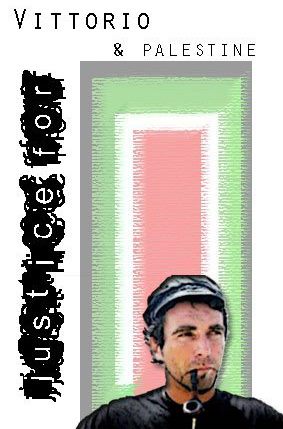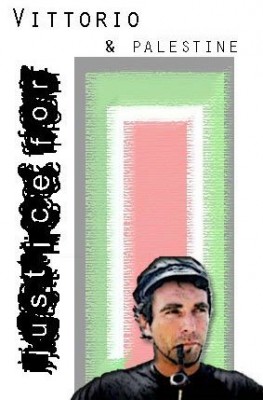 Palestinians and International activists celebrated with the spirit of Vittorio Arrigoni this week across Palestine. Memorial events were held to mark the one year anniversary of his murder: two in Al-Khalil (Hebron) with members of the Hebron Defense Committee and Youth Against Settlements and a week of events including a mural creation, video conference with Italy, and a  demonstration concluded yesterday in Gaza.
The International Solidarity Movement continues to mourn the loss of such an amazing colleague and was a grateful participant in these memorial events.
Arriogoni was a close friend to ISM coordinator Hisham Jamjoun. Hisham's stories about Vik's dedication to the Palestinian struggle for human rights brought many to tears at the Hebron Defense Committee memorial. The work of the International Solidarity Movement in Al Khalil where ISM maintains a full-time presence was honored as well. Members of the Beit Ummar dabke troupe performed traditional Palestinian dance, and the poetry of Mahmoud Darwish, one of Vik's favorite authors, was recited. ISM participated in the memorial by creating a slideshow of Vik's work in Palestine and speaking to the mission of ISM and how the life and work of Vik lives on with us each day.
After sundown, ISM joined Youth Against Settlements for a candlelight vigil and video conference with Vik's family and supporters at a simultaneous memorial in Rome. The Youth Against Settlement center is located 5 meters from an Israeli settlement and soldier guard station; Italian ISM activists lead the group in rounds of Bella Ciao as settlers and soldiers looked on.
The  memorial in Gaza wrapped up a week of activities to honor, remember, and continue the work of Vittorio. Events included the dedication of the weekly protest against the agricultural no-go-zone in Beit Hannoun, a performance by Palestinian children on the day of Vik's court hearing, a mural creation and candle light vigil at the Gaza Harbor, and finally a reading from Stay Human and video conference with Italy.
Activists from the International Solidarity Movement are honored to have received such great outpouring of support from across Palestine and around the world.
We continue to keep Vik's spirit close to our hearts and alive in our work for a freePalestine.
"We must remain human, even in the most difficult times …
Because, despite everything, there must always be humanity within us. We have to bring it to others."
-Vittorio Arrigoni 1979-April 15, 2011