by Sylvia
24 April 2012 | International Solidarity Movement, West Bank
On the 17th of April, Palestinian political prisoners launched a mass hunger strike against the Israeli Prison Service's (IPS) dismissal of the Fourth Geneva Convention and basic international law. The call for action comes on Palestinian Prisoners Day after a wave of high-profile hunger strikes evoked a global reaction.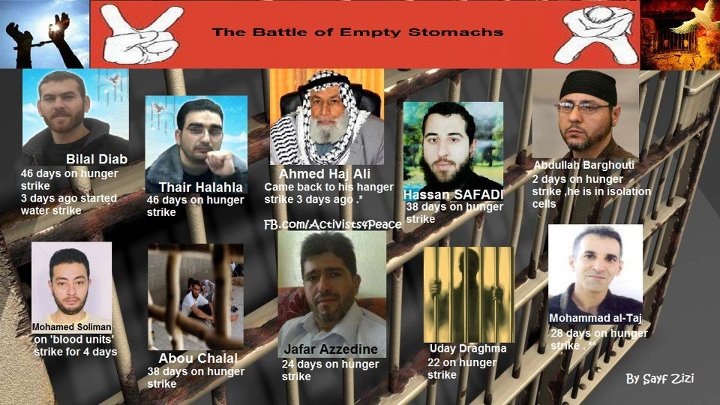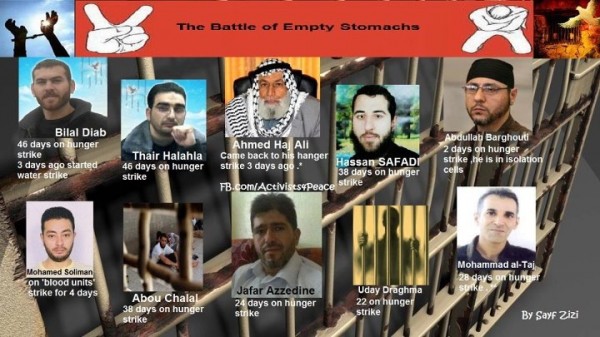 Palestinian Support and Human Rights Association Addameer originally estimated that some 1,200 Palestinian prisoners would participate, along with approximately 2,300 others refusing meals in preparation for a wider campaign. Today, Israeli lawyers say the campaign has reached 3,000 participants.
The hunger striking prisoners' demands include: an end to the IPS's abusive use of isolation for "security" reasons, currently affecting 19 prisoners, some of whom have spent 10 years in isolation; an end to the detainment of Palestinians without charge or trial in administrative detention, under which 322 Palestinians are currently detained; a repeal of a series of punitive measures taken against Palestinian prisoners following the capture of Israeli soldier Gilad Shalit, including the denial of family visits for all Gaza prisoners since 2007 and denial of access to university education since June 2011.
These demands were echoed yesterday when Khader Adnan visited the village of Tubas, where the relatives of political prisoners gathered in a tent outside the Municipal offices. Standing before a wall covered in the cherished photographs of absent men, Adnan spoke of his 66 day hunger strike, giving solace to worried parents and siblings:
"We have a message for those mothers; we honour you. If the doors to the prisons are closed, the door of God will always be open."
The International Solidarity Movement accompanied members of Tubas Prisoners Club and Khader Adnan to visit families of prisoners in their homes. Mohamamad Taj, who is 42 years old, has been on hunger strike since March 15. His family has not been given permission to visit the prison and await news of his condition. Adnan's visit brought strength and resolution, stressing the need for solidarity amongst prisoners with sight of a clear goal. He mentioned that prisoners are united despite political differences outside the prison walls.
Acts like these are being mirrored all over Palestine. The prisoners' solidarity tent has been standing since Palestinian Prisoners Day and is welcome to visitors to express their support and write a message in the visitor book. The face of Hassan Safadi is present amongst the many photographs plastered to the tent's walls. As he enters his 53rd day of hunger strike, his family are still being denied contact with him and his health condition is still unknown. As his struggle is replicated by some 3,000 prisoners, the international community stands in solidarity against Israel for the same goal.
FREE HASSAN SAFADI
FREE ALL POLITICAL PRISONERS OF PALESTINE 
Sylvia is a volunteer with International Solidarity Movement (name has been changed).