by Johnny Bravo
24 March 2012 | International Solidarity Movement, Gaza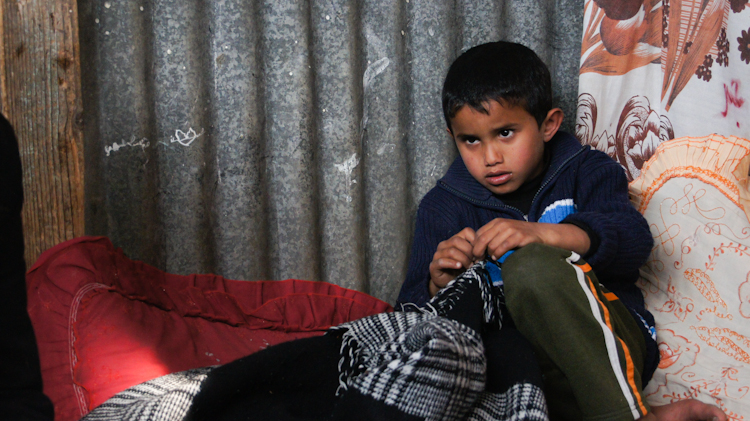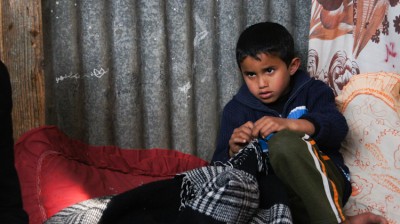 On Sunday it was reported that a young boy had been shot on farmland near the Rafah crossing. The details were unclear. Several colleagues and I traveled to Rafah to find out what happened. After making several inquiries, we entered a Bedouin area several hundred meters north of Gaza's border with Egypt and three kilometers from the Karm Abu Salem area of the Israeli border on the East. We followed a young man on a motorcycle down dusty roads with small plots of crops and olive trees on one side, and dilapidated homes made of corrugated metal, cinder block and plastic on the other.
Standing outside a rickety gate, three boys explain that we need to wait, as there are only women at home. A child runs off to summon a male family member.  Someone calls from inside asking us to enter.
We pass through a dusty courtyard and are directed to a small dark room with nothing but mats on the floor. A bare light bulb hangs overhead. A plastic clock hangs on the wall. Despite all the children on the street and in the home, there are no toys. A young boy sits in the corner, playing with the fringe on a woman's coat, shy and surprised at the strangers in his home. A woman with a child clutching her leg peeks from behind a curtain. Plastic chairs are brought in for the guests.
Faiza, the boy's forty-four-year-old mother enters and sits on the mat next to the boy. He is six-year-old Sohaib Sultan. He is the victim of the shooting, but he looks uninjured. Faiza pulls down his pants to show the fresh bandage on his left buttock. She explains that on Saturday evening at seven o'clock, they heard gunfire from the border. Sohaib was sitting exactly where we sat, playing on the floor with his brothers, when the bullet pierced the corrugated metal roof and struck him. She points to the hole in the ceiling just above my head.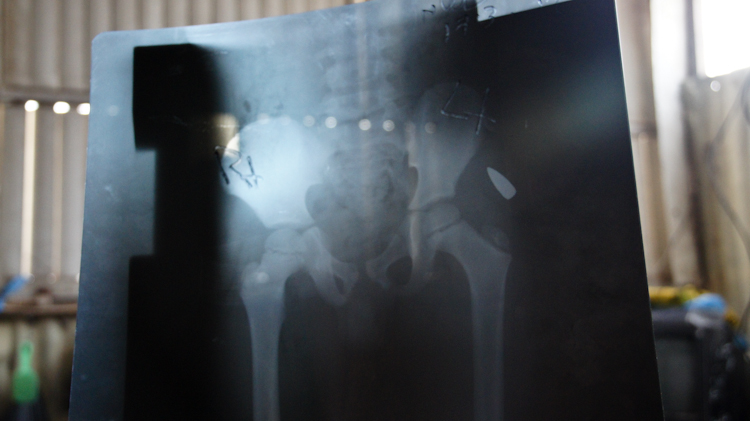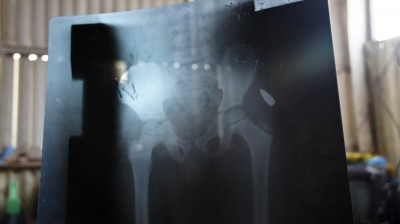 She produces his x-ray, showing a large caliber bullet lodged inches from his pelvis. If he had been sitting in a slightly altered position he could easily be dead. As it was, the bullet did little damage. His mother explains that the bullet hasn't been removed yet. They need to schedule surgery with the hospital.
Sohaib's father, Majd, enters the room and sits beside me. He explains the family's circumstances. He is unemployed and his wife suffers from kidney disease. There is little income and very little support from the government. He and his wife have nine children. Sohaib is the youngest. It is the first time a family member has been injured, although there is often the sound of gunfire from the border and bullets have struck neighbor's homes in the past.
 He said, "We are often afraid, we never know when a bullet could come down."  He continued to state, "To the Israelis we say, 'Please don't shoot us, we are civilians here, we have no weapons, we live a civilian life. We just want to live like humans. We want to live in peace.'"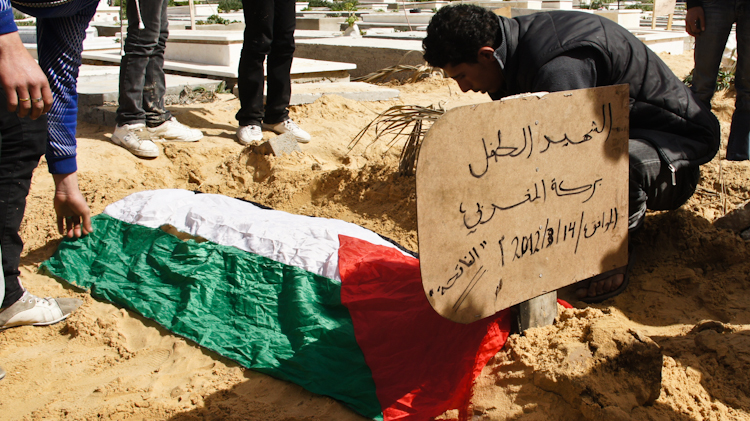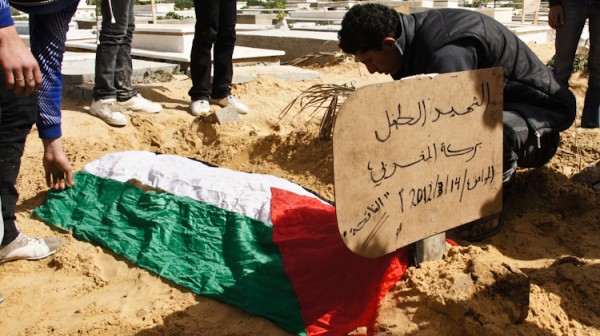 Baraka al-Morabi was not as lucky as Sohab Sultan. He lived in Zeitoun camp with his mother, father and two sisters as well as his grandmother and three aunts with their families.
I attended his funeral. I watched as a father stumbled, carrying his seven-year-old child to his grave. Baraka was wrapped in a white shroud and lowered into the ground. A short ceremony was held. A Palestinian flag was draped over the fresh mound of dirt, and a cardboard placard identifies the grave. His is the last in a line of fourteen new graves of fighters and civilians.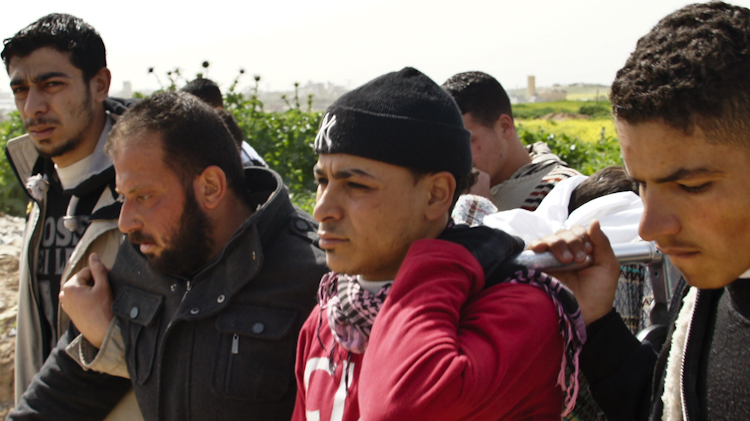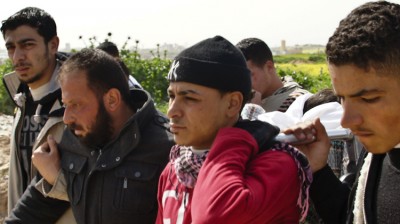 Several days after the funeral we visited with Baraka's father, Mohammed Osman al-Mograbi. He led us down rutted dirty streets, past the gaggles of bare foot children, to his home in Zeitoun camp. We sat in a small, concrete enclosed courtyard adjacent to a small stable that contained a horse and a small pony. The pony was born just weeks ago, a gift for Baraka.
As the family joins us under martyr posters of the young boy and his neighbors, we learn the story of Baraka's death.
On Saturday March 17th there was a funeral in Zeitoun for three fighters who had been killed the day before in an Israeli bombing. Baraka was walking in the funeral procession. Many people were firing pistols and Kalashnikovs into the air, as they will during both funerals and celebrations. Suddenly Baraka stumbled to the ground. He was struck in the back of the head by a bullet falling from the sky. He was hospitalized for four days before he died.
 Mohammed tells us, "Baraka was a happy child. He did well in school and was always smiling."
Now, he is gone, but not forgotten.
In Gaza, reminders of war and violence are everywhere. It is normal to hear the sound of drones and F-16's crossing the sky. The sound of machine gun fire from Israeli gunboats often punctuates a day at the beach or disrupts one's sleep. Building facades made of plaster and cinder block are scored with large caliber bullet holes, or even larger holes from mortars. Weeds grow around twisted metal and chunks of concrete in lots where buildings were reduced to rubble in Cast Lead, and there are the newly flattened buildings from last week's attacks.
And often, the bullets find much softer targets. Posters of the newly dead replace martyr posters faded and torn. Then there is the one legged man in the market, the burned woman I pass on the street, the pock marked arms and faces of shrapnel victims, and the men forever bound by wheelchairs.
 Now there is a new poster, of a young boy who was killed in an act of senseless violence where violence and destruction seem the norm. His death is just a footnote in the context of the larger systemic violence waged on the people here, but just last week he was not a footnote, he was a smiling vibrant seven-year-old boy who did well in school and had a new horse. He was living.
Baraka's grandmother appears heartbroken. Baraka's mother is less than reassured. She is pale and drawn. She is also carrying her fourth child, and on the day Baraka died, she thought she was ready to deliver and was rushed to the hospital, but the doctors sent her home to wait  and grieve.
Mohammed smiled.
"Do not be sad," he said to me, "Baraka is in paradise, it is a better place than here." Mohammed seemed at peace. "We don't worry," he said, "We are a happy family."
Johnny Bravo is a volunteer with International Solidarity Movement (name has been changed).