by Rosa Schiano
20 March 2012 | il Blog di Oliva
On Saturday evening around 7pm, Israeli soldiers opened fire on the edge of Karm Abu Salem, east of Rafah, southern Gaza Strip.
Sohaib Sultan, 6 years old, was playing at home with his brothers when he was injured by one of the bullets on the right side of his thigh.
His parents, Majed, 45 years old, and Fayza, 44 years old, transported him to the hospital. They first went to the Najar hospital and then to the European Hospital in the Khan Younis area.
The bullet is still in the child's body.
His parents told us that the doctor did not feel comfortable performing surgery on the child. He simply told them "it is your responsibility".
Therefore the parents decided to turn to another hospital.
The father showed us the X-ray. The bullet was clearly visible inside the child.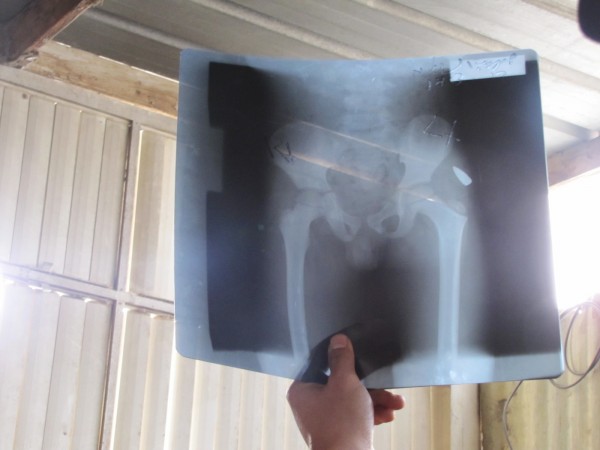 We asked Sohaib, "Kif halak" ("How are you?"), and he replied "Alhamdulilah" ("Praise be to God").
Everything is all right for Sohaib. I was astonished by his answer. Alhamdulilah, as if nothing had happened, as if his little body was not inhabited by a bullet of 215 mm.
Sohaib is a strong child.
I caressed his head smiling, and he returned my smile.
Sohaib has three brothers and 5 sisters, and he is the youngest of his family. His mother Fayza suffers from kidney problems and his father Majed is unemployed.
His father is worried. "There is nothing that can stop the bullets", he says, with reference to the panels which constitute the ceiling of their home and part of the walls, which bullets can easily enter.
I asked if he felt like sending a message to the outside world. "Put an end to the siege of Gaza,"  he said, "and let the people live a normal life. We are civilians, please do not shoot. We do not have any weapons, we live a civilian life. Let us just live a human life, in peace."
Tomorrow we will go together to the hospital to talk to a doctor and maybe Sohaib will be operated on. We will be with them for support, to make them aware that they are not alone, despite the silence of the international community.
Rosa Schiano is a volunteer with International Solidarity Movement.