by Joe Catron
20 February 2012 | Mondoweiss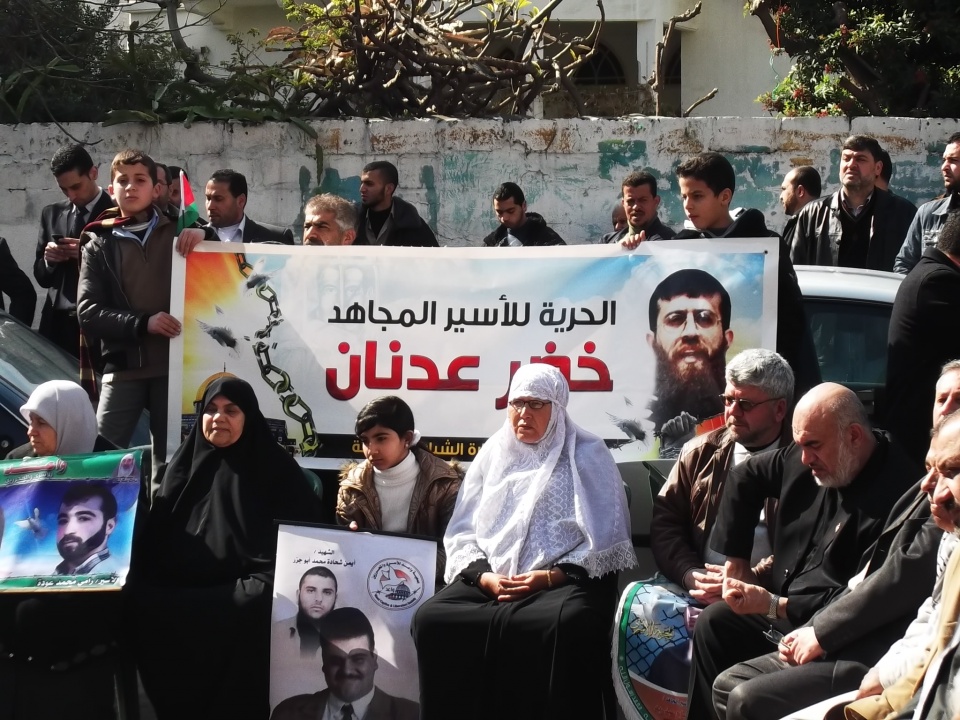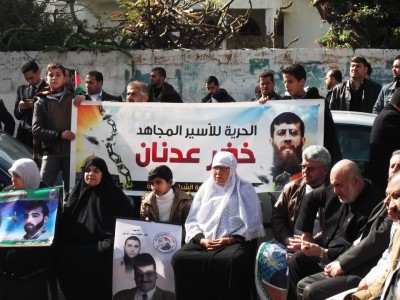 Every Monday morning the families of 445 Gaza Palestinians detained by Israel occupy the courtyard of Gaza's International Committee of the Red Cross headquarters to demand that the ICRC fulfill its obligation to protect the rights of their imprisoned relatives. This week's gathering was infused with fresh energy and a singular focus as Khader Adnan neared 66 days on hunger strike against his administrative detention. A government-sponsored rally after the sit-in drew hundreds of Palestinians and international visitors.
"The Monday protests have gone on since 1994," said Osama Wahaidi, a former prisoner and spokesman for the Palestinian Detainees' and Ex-detainees' Association. "People are trying to express their anger at what is happening to Khader Adnan and all Palestinian prisoners. The Israelis have no right to hold him or any of them, especially over 300 administrative detainees."
Administrative detentions, Wahaidi said, "can be extended for years without evidence or trials. And detainees have no idea when they will be freed! Some have been told to prepare for release and taken as far as the prison gates, before being dragged back to their cells. This has a terrible effect on their morale and psychology."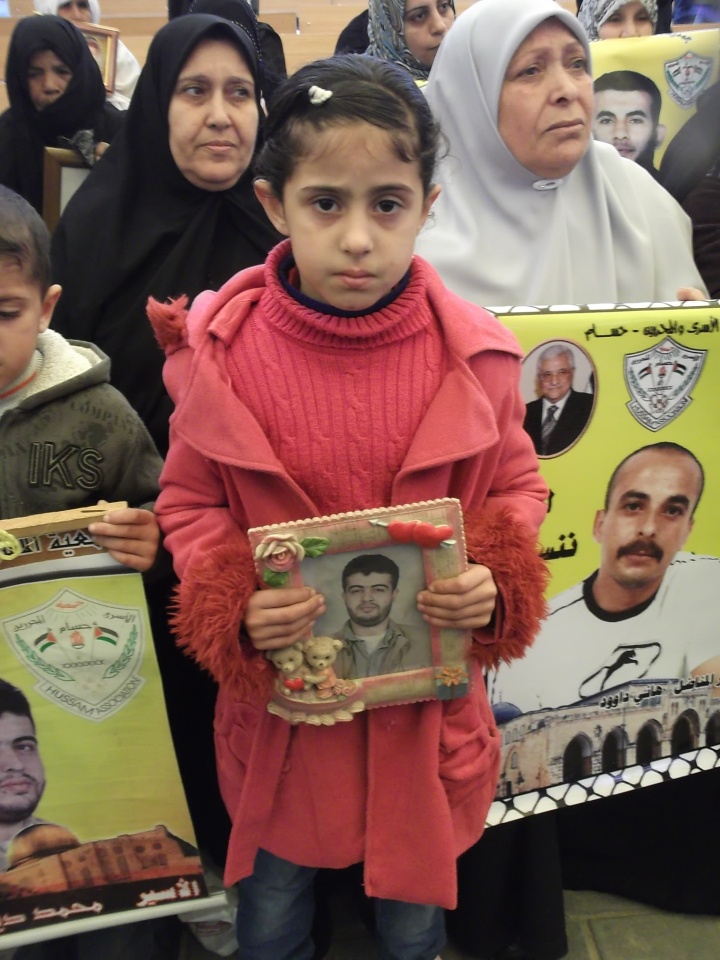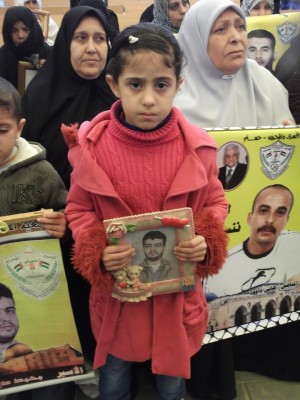 When asked about the event's location inside the ICRC, Wahaidi replied, "If the issue is Shalit, the human rights organizations start inciting against Palestinians, calling us criminals and terrorists. But when the issue is Palestinian prisoners, they practice what I call the crime of silence. We don't ask the ICRC to come and chase the Israelis for us! But we demand that they treat us fairly and stop using double standards against us."
After the sit-in, participants moved to the street outside, where hundreds more had begun to arrive. The rally that followed included speeches by Abu Abdullah Barghouti, the father of a current detainee sentenced by an Israeli military court to 67 life sentences; Um Mare'e Abusaddya, whose son is serving eleven life sentences, and who traveled from the West Bank for the event; and a representative from a delegation of seven Jordanians, including two former parliamentarians, who recently arrived in Gaza to join activities supporting Adnan and the Palestinian prisoners' movement.
"Khader has been on hunger strike for 65 days, but he will keep going until his demand for freedom has been met," said Doa'a Ahmed, a spokeswoman for the Ministry of Detainees' and Ex-detainees' Affairs in Gaza. "And the Palestinian people will keep supporting him, for as long as it takes."
She added that Palestinians, including those in Gaza, would mount a general strike Tuesday to support Adnan and demand his immediate release. "His hunger strike has mobilized people throughout all of Palestine," she said. "Tomorrow will reflect that."