by Maria Stephanya
28 October 2011 | International Solidarity Movement, West Bank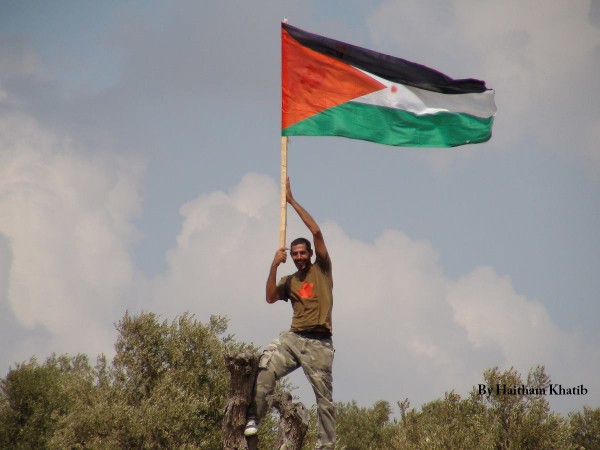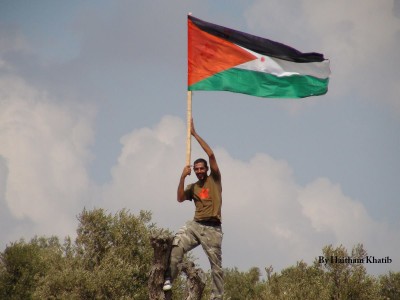 The proof is all there: photos, videos, witnesses. All of them showed that Ashraf Abu Rahmah, one of the main activists of popular non violent struggle in the village of Bil'in, Palestine, walked peacefully on the road which goes from Bil'in's recent liberated land to the center of the village, when an Israeli jeep passed besides him. Then it stopped. The soldiers stepped down, took the flag Ashraf carried and arrested him, forcing him to enter in the back of the vehicle under arrest, on October 23rd.
Rani Burnet, who saw everything in his wheelchair – part of his body was paralyzed because of live ammunition shot by an Israeli soldier, 11 years ago – complained.
In spite of lack of evidence to support charges brought against Abu Rahmah, in spite of the witnesses and the video which prove otherwise, Captain Tzvi Frenkel, a military judge at the Ofer Military Court, ordered the indefinite extension of his arrest, until the end of legal procedures against him.
In July 7th, 2008, Ashraf was blindfolded and bound in Ni'lin when the soldiers shot his foot. The video, seen by millions of people around the world, caused international protests. In April 17th, 2009, his brother Bassem was shot dead while trying to alert the soldiers for not harming livestock which was passing on the road beyond the wall. A high-velocity tear gas projectile, aimed at him from a distance of 40 meter hit him in the chest, killing him. In January 1st, 2011, their sister Jawaher also passed away because of the effects of the massive amount of toxic tear gas she had inhaled during a peaceful demonstration of December 31, 2011.
Maria Stephanya is an activist with International Solidarity Movement (name has been changed).