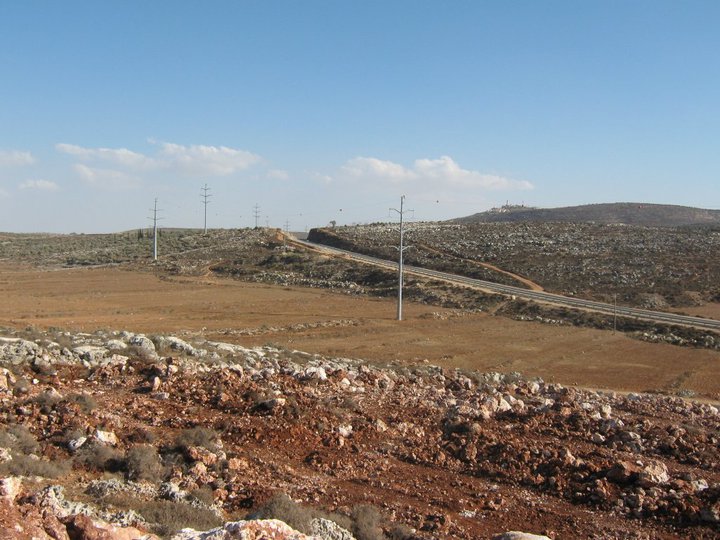 9 September 2010 | ISM Media

Aqraba, NABLUS

On Monday 6th September, farmers in Aqraba were forbidden by the Israeli army to work on a 200 dunam area of land near the village.
The land is currently in the process of being converted, by a combination of local workers and the Union of Agricultural Work Committees, from rocky terrain into usable farmland to increase the productivity of local agriculture.
The land in question was bought one year ago by a businessman from the area as a gift for many local farmers, and is located next to the main road between Nablus and the Jordan Valley (southwest of the village, towards Jurish). Three days ago, the Union of Agricultural Work Committees received a letter from the Israeli authorities saying that they must depart the area immediately. They claim that the land is in Area C, despite papers held by the owner showing otherwise. In one month, the land would have been ready to be used as farmland in the winter. The army threatened to confiscate bulldozers, and arrest workers and union members if work continued.
Ayssar, a member of the Aqraba Municipality, is convinced that the Israeli army have a different agenda. He said, "When they say it belongs to them, their aim is clear: they want to enlarge the settlement, they want to take our land. They threaten the workers, they take the machines, sometimes they burn the land. It is simple: they want to confiscate our land."
The illegal settlement of Migdalim is located about 2 kilometres south of the land in question.
The municipality reports that many local farmers have been forced to sell their animals, as land grabs in the area have not left enough land to graze animals on. Despite threats from the army to confiscate machinery and arrest workers, local workers are still determined to clear the land, build, and plant trees by hand, and are requesting international accompaniment.

Background
The Union of Agricultural Work Committees (UAWC) is a Palestinian organisation that was set up in 1986 to support farmers in their struggle against the occupation policies of destruction of Palestinian infrastructure and confiscation of Palestinian resources. See more at http://www.uawc-pal.org.
Aqraba is a small village with a population of around 8000 in the village proper, situated 18 kilometres southeast of Nablus. According to the ARIJ GIS Database of 2009, 90.1% of Aqraba village land is classified as Area C; this area contains all the agricultural lands, and the open spaces in the village. 4.1% of the village's land area is taken up by settlements (can be seen at http://www.poica.org/editor/case_studies/ITS_Map1.jpg). Of the farmlands, 62% are olive trees, 8% are for fruit and vegetables, 30% for animal grazing.