8 January 2010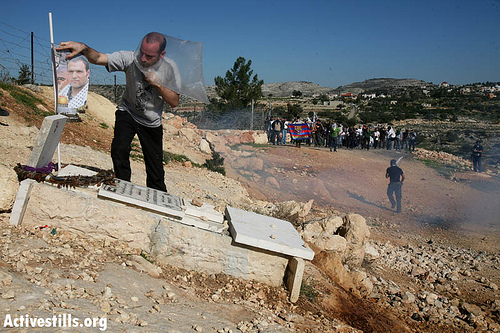 Three residents were injured today in Bil'in along with dozens who suffered gas inhalation in a protest against the Wall and settlement building.
The demonstration was called by the Popular Committee Against the Wall in Bil'in and was joined by residents of Bil'in, and international and Israeli activists. The protesters carried posters and banners calling to end the occupation, stop settlement building, stop detention and end the siege on Gaza.
The protest marched toward the Wall, where an Israeli military unit was located behind blocks of cement. The army had earlier closed the gate in the Wall with razor wire. When the protesters attempted to reach the land confiscated behind the Wall, the army fired tear gas and rubber bullets. Journalist Abbas Al-Momani and Rateb Abu Rahmah, a member of the Popular Committee, were each hit with tear gas canisters in their heads. Edo Medix, an Israeli activist, was also injured.
Last Thursday, a delegation from the US consulate in Jerusalem visited Bil'in and was welcomed by the Popular Committee Against the Wall. The delegation listened to a presentation about the experience that the residents have had in resisting the occupation, the building of the Wall and enduring late-night raids by the army. The delegation also visited the memorial statue for Basem Abu Rahmah.
In other news, Abedallah Abu Rahmah, the coordinator of the Popular Committee Against the Wall, is still detained in the Israeli prison after his hearing last Thursday at Ofer military court. The Israeli court accused Abu Rahmah of incitement, holding weapons and throwing stones at Israeli soldiers. The Israeli court also charged Abu Rahmah with a violation they call "Participating in a protest against the wall". Finally, Abu Rahmah was charged with "avoiding the Israeli justice" by avoiding Israeli checkpoints seven times and not being home when the Israeli army broke into his home three times. Abu Rahmah was arrested from his home on October 10, 2009 during a raid by the Israeli army.
The defense attorney responded to the accusations and the charge of holding weapons by stating that collecting empty tear gas canisters, fired rubber bullets and used sound grenades from Israeli soldiers to use them in local and international galleries is not a crime.
The Israeli court ruled on Thursday, January 7 to continue the detention of Abedallah Abu Rahmah and kept his charges open until his next court hearing. This decision was made in the absence of the defense attorney.
The Popular Committee Against the Wall and Settlements in Bil'in condemned this decision and the detention of another Bil'in activist, Adeeb Abu Rahmah, for more than 5 months for his participation in demonstrations.