Nir Hasson | Haaretz
11 December 2009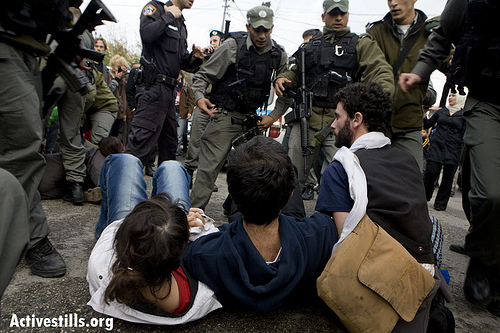 Six Israel Police officers were lightly wounded and 21 left-wing activists were arrested Friday during a demonstration that turned violent in the Sheikh Jarrah neighborhood of Jerusalem.
The demonstrators were protesting the eviction of Palestinian families from their homes.
The protesters on Friday marched from the city center to Sheikh Jarrah, where police said they tried to enter a home that is partly occupied by Jews before being stopped.
Police were instructed to disperse the demonstration, but the protesters refused to leave. Police then used force and tear gas to disperse the crowd.
The entry of the Jews into the home follows a court order ruling in early December that the Arab al-Kurd family, which lives in a portion of the house, had no right to occupy an addition that they had built onto the house. The court rejected the al-Kurd family's petition seeking to prevent the Jews from moving into the building.
In recent months, three Palestinian families have been evicted from Sheikh Jarrah homes. Activists accuse settlers of trying to take over 28 homes in the neighborhood, which would allow them to create a Jewish community at the heart of the mostly Arab vicinity.