By Eva Bartlett in Gaza
ingaza.wordpress.com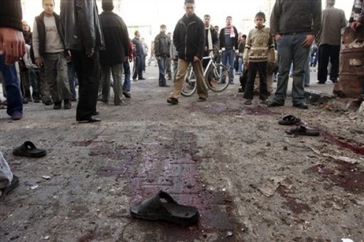 If your unbelievably small and overcrowded land was being terrorized, pulverized by bombs from the world's 4th largest military, and your borders were closed; if your house was not safe, mosque (church) not safe, school not safe, street not safe, UN refugee camp not safe…Where would you go, run, hide?
Over 15,000 have been made homeless, internal refugees from Israel's house-bombings, shelling, and shooting. Some have been housed in UN schools around Gaza. In Jabaliya today, Israeli warplanes bombed one such school. Shifa's director conservatively estimates 40 dead, 10s injured. It must be higher. I will go to the recieving hospital and look at the mutilated survivors, maybe see the corpses come in. Then I will tell and show you, if I'm not bombed.
The Shifa director also told me that emergency medics still cannot reach the Zaytoun house that yesterday morning was bombed with inhabitants locked inside. There are two main accounts of the story, both criminal. One: Israeli soldiers rounded up the inhabitants of the multi-story house, separated the men –15, I was told–and shot them point blank in front of the women and children of the family, 20, I was told. Then, laid explosives around the house and bombed the rest of the extended family.
Two: Israeli soldiers rounded up the inhabitants of the multi-story house, locked them in one room for a day, and bombed it the following morning.
Either way, Israeli soldiers intentionally imprisoned and bombed the inhabitants of the house. And are actively preventing medics from reaching any potential survivors. The medics have tried to coordinate with the ICRC (International Committee of the Red Cross) without success: no one can reach the house.
Is this logical, humane, moral? What's going on with the ICRC? Would this happen in any other place, with any other invading force?
A house in Beach camp, off the coast and in Gaza city, was shelled yesterday around 8:30 am, seven killed, including five children.
And of course, the bombing of residential houses in the north goes on. I'm cut off from what happens in the central and southern areas, until I'm able to sit with journalists and get the news. But I know they are not excluded from this carnage.