On Friday 21st of November a prayer demonstration was held in Ni'lin.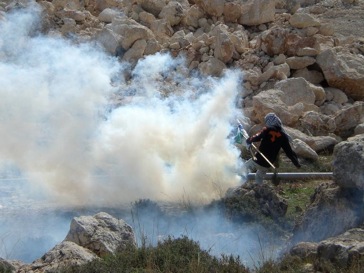 During the demonstration 6 people were injured including one international activist who was shot by a teargas canister in his arm.
Other demonstrators suffered by gas inhalation and rubber coated steal bullets.
During the prayer, two jeeps parked out in the fields close to the site where the prayer was being held. As the demonstrators tried to enter the field on their way to the construction site, the army directly started firing teargas and rubber coated steal bullets in attempt to hit peoples bodies.
The army kept close to the village, firing also at people standing on balconies and rooftops during a couple of hours. After the army pulled back the demonstration was able to enter the fields but was again violently attacked by the army and shot at with live ammunition despite an international presence, violating their own military order. The demonstration started at 11.30am and ended at 5.30pm.