Israeli military forces invaded the village of Azzun at 4:30pm on 25th October, enforcing a curfew on residents – forcing all businesses to close; and all residents to remain in their homes.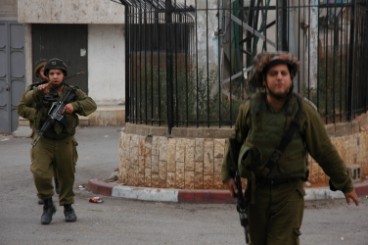 Five Israeli jeeps patrolled the village, firing sound bombs and announcing the imposition of curfew and forcing anyone on the streets to go to their homes. This curfew came just seven hours after the village was released from a previous curfew, repeating a pattern that has been ongoing for the past two weeks.
The commander of the invading forces informed international activists present in the village that the curfew was implemented "because the boys here throw stones on the road". Such measures of collective punishment are illegal under international law.
During the curfews, Israeli forces have been invading homes and arresting youth, with fifteen boys and young men taken from their homes over the past three days. Two of those arrested are just thirteen years of age; one is fifteen; and another sixteen years old. Two twenty-five year old men have been released; the rest are still imprisoned, with their whereabouts unknown.
One of the released men, Alleh Abdul Fateh Hussein, was arrested on the night of Thursday 23rd October, with Israeli soldiers arriving at his home at 2am. Alleh reports that soldiers took nearby bricks for building works and used them to attempt to smash open the door. Alleh's father opened the door in time however, and was told to turn on the lights and for all of the family members to leave the building, and stand out in the cold night. Objecting that there were women and girls in the house, the father was met with insistence that everyone in the house with identification go out into the street. The five men and five women were divided up, and soldiers took all IDs, forcing the young men to lift their shirts and turn around to ensure they were not strapped with bombs, despite having just been woken up.
By 2:40am all IDs had been checked and the commander called to Alleh, taking him to a nearby jeep, where he was told by Shabbaq (internal Israeli intelligence) agent Captain Shukri that "If we have anything against you, you will stay. If not, you will go". His family tried to bring Alleh a sweater, but the soldiers they gave it to threw it to the ground and took turns stomping on it. Alleh was handcuffed and blindfolded, then thrown into the back of the jeep "like a bag". Soldiers then started beating him with their guns, jabbing him in the abdomen, and using their metal helmets to hit him in the head. The soldiers were kicking and punching Alleh in the head and abdomen; stomping on his fingers; spitting on him; and taking photos of him lying beaten and prone on the floor. His fingers and wrists still show marks from the handcuffs and stomping.
Alleh reports that the beating continued for approximately one and a half hours, during which time he was driven to the nearby village of Izbit at Tabib, where the soldiers set up a mobile checkpoint, known as a "flying checkpoint". Eventually, he was taken out of the jeep, and forced to sit on the back stoop of the jeep, while his hands were still handcuffed behind his back and attached inside the jeep, in what he describes as an extremely painful position. After Alleh started to scream from the pain, Captain Shukri emerged to retie the handcuffs in front of him. It was then that Captain Shukri started asking Alleh questions about his personal life – his profession; his marital status; whether he had built his own home. After Alleh replied that he was a carpenter who was engaged but not yet married, without his own home, Captain Shukri started to offer him money for his wedding and to build a home if he would become an informant for the Israeli authorities. He was also offered a pass to enter Israel at any time, with Captain Shukri assuring him "We can be friends. You can call [me] any time".
Surrounded by Israeli soldiers, Alleh considered it dangerous to refuse, but claims he was not scared. He told the Captain that he was happy with his life, and could not be an informant. Finally, at this refusal, Captain Shukri kicked Alleh and told him to go home, before giving him his mobile phone number and telling him that he could think about the offer, and call if he changed his mind. When Alleh complained that there was a curfew in place and that if he was to walk back to his house from Izbit at Tabib, approximately 4 kilometres, he would run the risk of being arrested again. Captain Shukri replied: "Not my problem".
Nadal Ibrahim Anaya, however, aged 18 years, is still in police custody. He was taken from his bed at 2am on the night of Wednesday 22nd October when Israeli soldiers entered the garden flat he and his brother share in their parents home. Soldiers were able to use the key that was left innocently on the outside of the door to gain entrance, arresting Nadal in just a singlet and shorts. His family were also woken and forced into the garden, as soldiers searched the house, damaging a table and documents. Nadal's brother reports that approximately twenty soldiers entered the garden flat, overturning furniture breaking drawers. The soldiers claimed that Nadal was "wanted", but would not tell the family for what.
Nadal was handcuffed and blindfolded, and the family were allowed to give him a shirt, but not pants or shoes. His mother wanted to see her son before soldiers took him away, but she was refused, with soldiers pointing guns at her, saying "Stay here". Nadal, who just finished his final year at high school and was due to start training to be a policeman with the Palestinian Authority two days later, was taken from the house at 2:30am.
The family are still uninformed about where he has been taken, with the International Committee for the Red Cross (ICRC) advising that they will not be informed for another eight days.
Azzun has suffered from these types of closures and arrests intermittently for the past nine years. The main road to the village was closed by an earth-mound on Friday 16th October after being open for just four months. Before this it was closed for more than six months. Israeli soldiers reinforced this earth-mound during this most recent invasion with razor wire. The road to Izbit at Tabib has also now been closed by earth-mound.