On the 23rd September at about 11:00 Ahed Khawajeh, Salah Khawajeh, Mohammed Amira, 5 EU Parliament representatives and the head of the municipality Ayman Nefeah went to the fields to show the Parliament members the impact of the apartheid wall before a planned demonstration.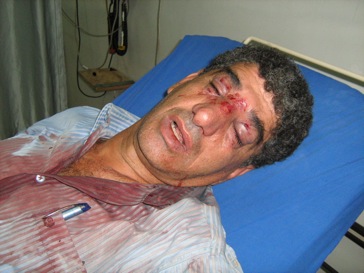 Photo by Iyad Haddad
The Israeli army approached them and told them to go back to the village because they were not allowed on their land. They showed them an order for the area to be a 'Closed Military Zone', and threatened to use rubber-coated steel bullets. As they were walking back, a soldier shot a tear gas canister from about 25 metres hitting Ahed and breaking the bone between his eyes. As the others helped Ahed the soldiers barraged them with more tear gas. Luckily no one else was seriously hurt and Ahed reached the Ni'lin medical clinic. He was transferred to Sheikh Zaid Hospital in Ramallah where he remains in a stable condition, but with eyes swollen to an extent that he can not open them at this moment.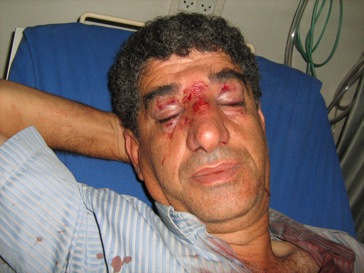 Photo by Iyad Haddad
At about 13:00 a group of about 50 protesters both Palestinian and international walked to the fields to protest the construction of the wall, which will annex another 40% of Ni'lin's land accumulating a loss of around 85% of it's land since 1948. As the protesters reached the road, (prepared for the wall) on the village's side of the valley, unprovoked, the army started shooting tear gas directly at the demonstrators from the road on the opposite side of the valley. Some people suffered from gas inhalation but amazingly no one was hit by the cannisters. The demonstration spread around the fields with significant activity in the fields close to the medical clinic. Many rubber bullets were fired along with more tear gas and sound grenades. At about 15:30 the soldiers, who numbered around 20, left by foot and by hummer. People were later treated for injuries from rubber bullets, contact with metal gas cannisters, tear gas inhalation.