At 12.30pm on Wednesday September 17th, approximately 250 Palestinians, Israelis and internationals gathered in Ni'lin to protest against the construction of the illegal apartheid wall and in memory of the victims of the massacre in Shabra and Shatila in 1982.

Photos courtesy of Activestills

The Israeli army attempted to stop the non violent protesters before they got out of the village by shooting tear gas and sound bombs directly without provocation.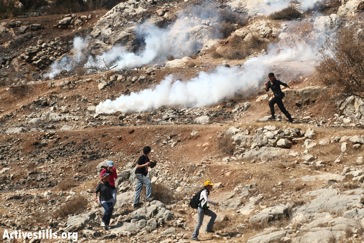 Five Palestinians were injured by rubber coated steel bullets, 2 hit by tear gas canisters and one Israeli was badly beaten up and hit in his bag with a sound bomb.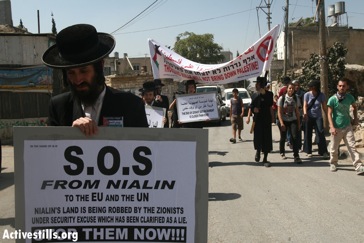 5 Israelis were detained, but all of them are now released.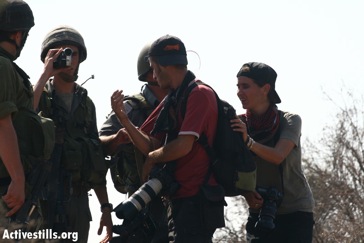 Before today's demonstration the Neturei Karta held a speech to the villagers of Ni'lin condemning the annexation of their land and praising their resistance. They ended their speech by giving flowers to the village in memory of those killed during the massacre in Shabra and Shatila in 1982.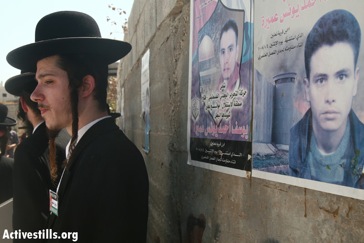 The Israeli army blocked the protesters in a field directly outside the village. They shot tear gas, rubber coated steel bullets and sound bombs at the non violent protesters who were pressured back into the village.
Two groups of protesters managed to get around the soldiers and ran to the construction site of the illegal apartheid wall where they stopped the bulldozers for 10 minutes.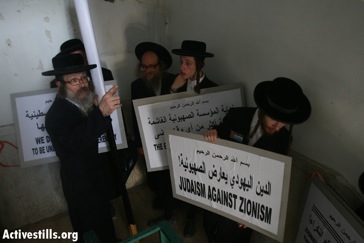 The aggression from the army increased after this and they immediately started shooting rubber-coated steel bullets and tear gas cannisters directly at the protesters from a close distance. Five Palestinians were hit by rubber coated steel bullets and two by tear gas cannisters.
The soldiers beat up one Israeli man who protested in solidarity with the villagers. When he finally escaped their brutality they threw a sound bomb at his back.
The attacks continued all the way back into the village where the soldiers shot tear gas directly at any one who moved in the streets.
The completion of the illegal apartheid wall will leave the villagers of Ni'lin with only 4% of the land they owned before 1948. In addition to the apartheid wall Israel plans to build a tunnel under the apartheid road leading to the nearby settlements. The tunnel will be the only way in and out of Ni'lin. It will close every night at 7pm and is possible to close of with only one military jeep. This will have huge economic as well as social consequences for the villagers of Ni'lin.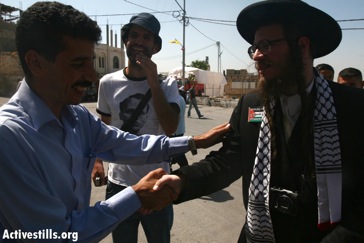 In 1982 September 16, Israeli army in co-operation with Lebanese terrorists were instrumental in a massacre on the Palestinian refugee camps Shabra and Shatila in Lebanon that killed thousands of Palestinians.