On the 9th July 3 more rockets were fired from settlements towards Palestinian villages. Settlers from the two settlements Yitzhar and Brakha, both of them placed on land from the village of Burin, started for about four weeks ago to shoot home made rockets on the Palestinian.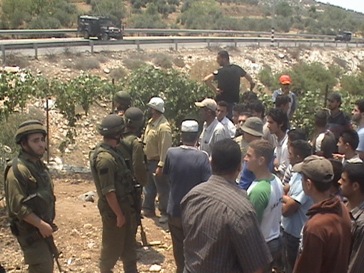 At least nine rockets have been fired so far, with a maximum of three rockets in one day. They've been fired both during night and in the middle of the day, with the rockets have become more and more advanced. The first rocket wasn't very big, but they've grown each time to about the size of a three litre water bottle. The rockets are covered with steel and have an inside of explosives and needles. Only one of them has exploded so far, causing a fire. The rockets are able to be shoot from a distance of about three kilometers and they have landed in different places around the village, one time in a house. No one in Burin has been hurt by the rockets but the villagers, especially the children, feel very sad and unsafe because of them.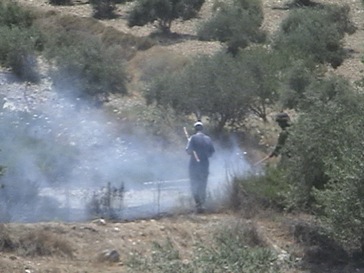 After the rocket-attacks the Israeli army has turned up in Burin very fast. The army has taken the rockets and they have cleaned up at the spot where they landed. No settler has been charged with anything.
Burin has about 3000 inhabitants. The first settlers took land from Burin and it's neighboring village Madama in 1985. Ever since then the settlers have harassed the villagers in different ways. They have burned their fields, the last time last thursday, with losses of groves and income for many villagers as a consequence. They have abused the villagers with sticks and machine-guns when they've tried to harvest their olives, almonds and wheat. The settlers have also come in groups to the houses of Burin, mostly during night-time, to abuse the villagers. Several villagers have been injured during these attacks, two of them seriously.