On the 30th July, the villagers of Ni'lin said goodbye to of ten year old Ahmed, taking his body from Ramallah to his funeral in Ni'lin.
Photos courtesy of Activestills
Later that afternoon about 200 villagers gathered near the checkpoint in Ni'lin and many of them confronted the seven jeeps, with about 50 soldiers, who had taken position there. Seventeen people were injured, three of them in the head by rubber bullets. Late in the evening one of them, Yousef Ahmad Youkis Amira, was declared brain dead.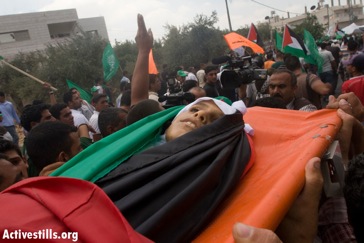 Ahmed Hosam Mousa, who was killed in Ni'lin the 29th of July, was taken out of the hospital in Ramallah at about 10 am Wednesday the 30th of July. His ambulance came to Ni'lin together with a long procession of cars around midday. About 40 cars joined in the caravan and thousands of people had gathered in Ni'lin to meet them. The people went out of the cars in the settler road and walked by foot through the checkpoint where about 10 soldiers were watching them.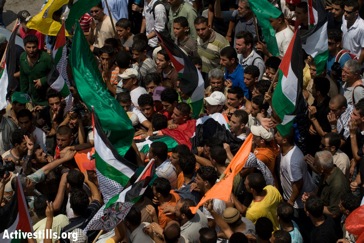 When parts of the crowd had passed the soldiers shot teargas and rubber bullets and some stones were thrown. The crowd scattered for a while, but rejoined and most people walked to the village center. The body was carried into the house for a last goodbye and after that to the mosque where more people could say goodbye. The procession then marched to the ground where Ahmed was buried.
About 4.30 in the afternoon about 200 villagers went up to the checkpoint where the Israeli army met them by throwing teargas canisters and sound bombs, as well as shooting rubber bullets. The clash kept on until about nine o'clock in the evening when it had turn dark and the army ended it by pointing searchlights at the Palestinians from a bulldozer at the same time as they were throwing teargas. The Palestinians then went back into the village.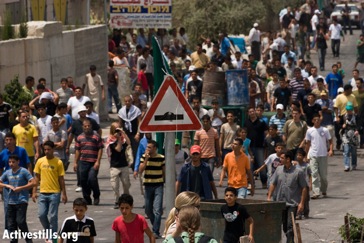 The Israeli army used several times their jeep which can shoot sixteen teargas-canisters at the same time and they aimed at peoples heads when they were shooting rubber bullets. Eight people were hurt by rubber bullets. Three of them in the head. The three who were hurt in the head were sent to Ramallah hospital. One of them, Yousef Ahmad Youkis Amera was declared brain-dead in the evening, but kept alive in a respirator. He is not expected to survive. He is seventeen years old.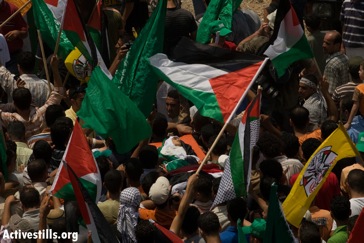 At about midnight 45 jeeps are blocking the entrance to Nileen with roadblocks.