On 21st June, approximately 100 residents of the Qalqiliya region, as well as international and Israeli activists, and six Palestinian officials, joined the residents of Wadi Qana, a small village on the Qalqiliya/Salfit border, surrounded by seven illegal Israeli settlements, to protest against the system of apartheid that has stolen their land and water; demolished their houses; and destroyed their livelihoods.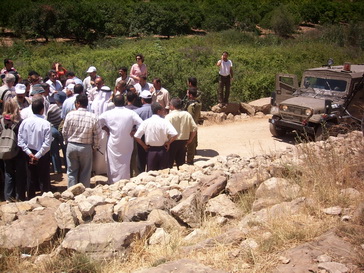 Israeli soldiers initially attempted to prevent the demonstrators from reaching the village by blocking the single access road to the village, in an attempt to prevent the protesters from showing solidarity with the village. The villager's protest took the form of a small festival, with children playing traditional Palestinian music, and singing traditional songs.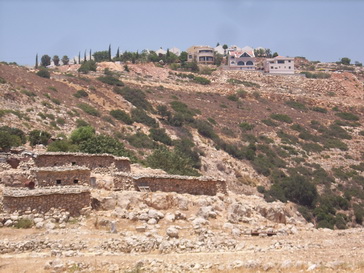 The demonstration was designed to highlight the difficulties of life in Wadi Qana, where 33 of the 40 houses that once existed there have been demolished by the Israeli army, and villagers are subject to special building orders that in effect prevent any building from taking place at all – even sheds for animals. The remaining seven houses have been issued with house demolition orders from Israeli authorities.
Wadi Qana was once an important site for water for Palestinians, where for hundreds of years people from far around would come to wash their clothes and collect water. Now, the village has to purchase water from the Israeli company "Makarot", because all of their water sources have been either intentionally destroyed by the surrounding settlers, who have polluted wells with raw sewage; or because those sites have simply been stolen by the illegal Israeli settlements. In the rare instances where there are still viable wells available for Palestinian use, those sources are fiercely guarded by armed settlers, who attack any Palestinian who attempts to use them.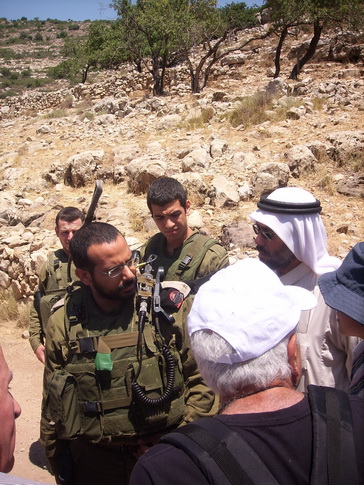 Settlers also attack Palestinians who attempt to enter what lands they have left – often setting dogs onto them. The result is that the villagers, who were once dependent on their livestock, are now forced to keep only greatly reduced numbers of animals close to their houses. Villagers also report that the settlers cut down their trees on a daily basis.
While the Israeli army does not itself invade the village on a regular basis, they do regularly accompany the settlers in their attacks, standing by doing nothing to prevent the attacks taking place.
The worst, however, has not yet come for the village of Wadi Qana, as the Israeli authorities have concrete plans to build a wall around the settlements, trapping the villagers in a "closed area", preventing their freedom of movement. This is clearly part of a larger plan to eventually evacuate the village entirely – forcing the Palestinians from their land.
The 50 remaining residents, however, are determined to stay in their village, and will continue to hold demonstrations and solidarity tours to bring the area to public attention, in an attempt to save their village.