The village of Azzoun, nine kilometres west of Qalqilya, was again put under curfew by Israeli soldiers at 6pm on Friday 2nd May, lasting until 2pm the next day. This is the ninth curfew to be imposed on the village of 11000 people in the past eleven days.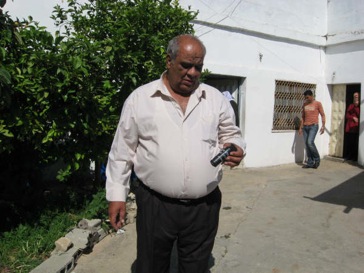 Villagers were forced to close their stores and stay in their homes – risking bodily harm if they ventured onto the streets. Many residents reported incidents of attacks by Israeli soldiers on taxi drivers who were caught breaking the curfew, with at least three drivers reporting physical beatings and attacks to their vehicles. Residents advise one driver, Kamil Sleihman, was beaten and had the windscreen of his "service" car smashed by an Israeli soldier's rifle. Another driver, Omar Aduan, was also reportedly beaten and had the mirror of his taxi smashed by a soldier. All such attacks are alleged to have been perpetrated by Israeli soldiers known as "border police" – generally considered to be amongst the most brutal of Israeli forces.
Residents report that rather than displaying the usual behaviour of Israeli soldiers enforcing a curfew on a village, whereby jeeps cruise the town announcing over loudspeakers that a curfew is in place, often threatening in crude and violent language to enact harm to those caught on the streets, soldiers instead announced the curfew only briefly on Friday evening, and then roamed the village silently over the next 18 hours, attacking those caught unawares by their presence.
One resident, Majid – a local school principal – wasn't at home the first time Israeli soldiers came to his house at 8:30am on Saturday, he had briefly left his home to buy bread from the local bakery that was operating clandestinely. Just his wife and young son were home when soldiers stopped, shoving his son back inside the gate to their courtyard. He was in his courtyard, however, by the time the soldiers returned to throw a sound bomb through the 30cm wide gap where his gate was open. Soldiers returned to his house twice more, the final time pushing on the by then firmly secured gate and calling to the family "Sacar ad ducan" in Arabic, or "Close the shop" – when his property is clearly a family home.
Majid also reported the incident of a young neighbour who was caught sneaking out to buy bread for his family, who was then beaten by soldiers when he was caught violating the illegal curfew. Residents were unsure as to whether any villagers had been arrested during this most recent curfew, because everyone was too scared to leave their houses. They reported that one arrest had occurred during the week – a 24 year old man who was held for four days before being released.
Azzoun has suffered regular invasions and curfews imposed by the Israeli army since the intifada of 2001. Majid expressed concern that although soldiers had left the village, they had not formally announced that the curfew was over. When this happened on the evening of 29th April the week before, soldiers again entered the village at 10am the following morning, after hearing the mosques announcing that children should go to school, and enforced curfew once again. He says that for this reason it will be difficult to open the schools on Sunday morning, for fear of bringing another curfew on the town.