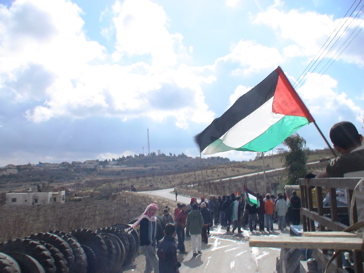 On January 5th, around 50 people took part in a demonstration against the theft of land belonging to the village of Beit Ummar. Palestinians from Beit Ummar and other towns were joined by international and Israeli activists and several representatives of the media as they walked to the land, which is now inside the fence of illegal Israeli settlement Karme Tzur. The crowd was accompanied by 3 tractors and a sound system, creating a lively atmosphere.
Israeli Military met the demonstration around 100m from the settlement fence. Over the next half hour the demonstration was able to move closer while but did not reach the fence. The standoff between demonstrators and soldiers was at times tense, but remained peaceful until the demonstration began to disperse, when the army fired several canisters of tear gas and some stones were thrown. The army also drove into the village following the demonstration. According to one participant, a journalist was injured by a tear gas cannister.
Around one year ago, 600 dunums of Beit Ummar's land was fenced off and taken by the settlement. The army has repeatedly given assurances that farmers with land inside the fence will be given access to their land, but this only happened twice, causing crop failure. Farmers with land outside the fence are also unable to work their land, as when they try they are shot at by settler security forces, while soldiers look on.
Organisers say they plan to make this a weekly demonstration.