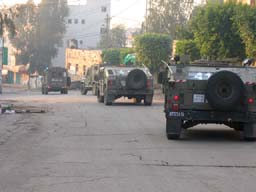 After a few days of quiet, Israeli army jeeps re-invaded Azzoun, again enforcing curfew on the village of 11,000. Military and police jeeps, along with a military hummer and a large personnel carrier, overran the village around 3pm—not coincidentally the time when youths are leaving school. As with prior raids, the army announced their presence via sound bombs, the shooting of live and rubber-coated ammunition, and tear gas.
The imposition of curfew –a full lockdown dictating that residents must leave the streets and stay in their homes, regardless of work, medical needs, or study –was again heralded by sirens, soldiers announcing over speakers that, effectively, residents must drop everything and go home.
Jeeps and foot soldiers stationed themselves at the town's centre, occupying key transit points and obstructing the passage of many citizens through the centre to their homes. Azzoun sources report that the Israeli forces blocked all of the 5 entrances/exits to the village, as well as that of neighboring Izbat at Tabib.
After nearly 3 hours of patrolling and occupying streets from which soldiers fired further sound bombs and live ammunition, the last jeeps occupying the town centre pulled abruptly away near 6 pm. A line of cars which had been able to enter Azzoun's main entrance was finally able to continue to their destinations, one of which included a medical facility outside of Azzoun. The mother of a sick child had been told simply to wait until the army said their car could pass and, thus, their toddler could reach a doctor. Army vehicles returned to empty streets two hours later to ensure the curfew was being kept.
It is important to consider how a curfew not only disrupts plans made and travel possibilities. It also seriously wounds an already ill economy, shutting down businesses long before closing hours and preventing goods, let alone customers, from entering or leaving. Additional to the detrimental effects on study, medical care, and the economy, these regular raids and house-arrests serve a larger purpose of both fomenting mistrust of the Israeli army and of Israel's peace intentions, and of painting Azzoun as a problem area.
By creating the belief that Azzoun is a high-risk zone which necessitates these regular invasions and curfews, it is quite likely that in the near future, Israeli authorities will use their regular and heightened military presence here as a justification for greater 'security' measures, such as continued roadblocks, a 'security' wall along restricted road 55, and possibly the imposition of a 'closed military zone' order on areas around Azzoun. By deeming an area a 'closed military zone,' Israel sets the stage for annexation of land, as well as settlement and Israeli infrastructure expansion.