On December 8, Israeli activists held a critical mass protest against Israel's occupation of Palestinian territory, and against capitalism. About 50 bicycle-riding activists rode to the David Intercontinental hotel where the Israel business conference was taking place. One of the sponsors of the event was Africa-Israel, a vast holding company controlled by Israeli diamond and settlement mogul, Lev Leviev, whose jewelry boutique in New York City was the target of a protest by 60 people the same day. The New York protest was called by Adalah-NY, which is leading a campaign to boycott Leviev's businesses because he builds settlements and abuses marginalized communities in other parts of the world. Activists in Tel Aviv held aloft signs that read in English, "Africa-Israel & Lev Lebaiev Build on Robbed Lands," and "Lev Lebaiev & Africa-Israel: Land Theft Incorporated."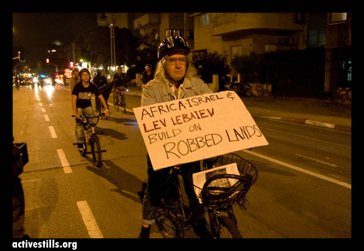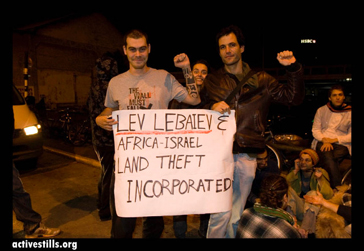 The riders never made it to their destination. When they arrived at Yarkon, they were met by police who announced they would arrest the activists if they didn't move to the sidewalk. A minute later, the police began pushing riders over with their vehicles, and on foot. The police cursed at and hit the protestors, continuing even after six arrests, including a photographer. This abuse continued on the way to the police station.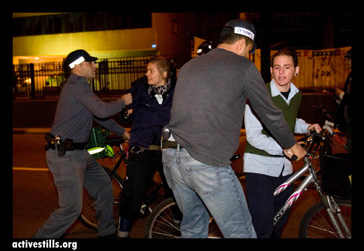 The photographer was released later that night, and the other arrestees were scheduled to appear before an Israeli judge on the morning of December 9.
December 8 in Tel Aviv: Six Arrested at Critical Mass
https://israel.indymedia.org/newswire/display/8107/index.php
December 8: Protesting Leviev in New York City
http://nyc.indymedia.org/en/2007/12/93360.html
By Israeli activists http://www.awalls.org