On Tuesday November 27th, at approximately 3 pm, 16 year old Mohammed Fathi Asad Swedan was on his way to visit his grandmother when he was shot by live ammunition by the Israeli army. One bullet struck him in the left side of his chest, heading down through his stomach before finally lodging in his spleen, on the right side of his body. He had been standing outside of his grandmother's house in Azzoun, talking with his cousin, and unaware of the presence of soldiers until he was shot at. Given the angle from which the bullet entered his upper body, the conclusion can be drawn that the soldier who shot him fired from the rooftops above. Residents report that just prior to the shooting, some children had been throwing stones in that same area but then ran to hide.
After five days Mohammed is still hospitalized in Qalqilya, and will then need at least one year of physiotherapy to fully recover. About seven months ago, Israeli soldiers arrested him from his home, looking for children throwing stones and accusing him of participating. Soldiers held him for four hours while beating him, then dropped him by the gate of an Israeli settlement.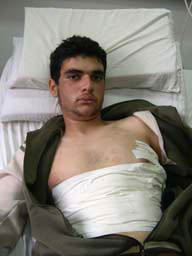 In addition to Mohammed, three other teenage boys were hit by Israeli army bullets that same day. Two of the incidents occurred in the same area as where Mohammed was shot. Fortunately, these two youths were luckier, as the bullets first hit the wall behind them before shattering and ricocheting into them. One of the boys, 13 year old Amjad Nedal Mahmood Mishill, was on his way home from school with with his brother when he was struck by a bullet fragment in the upper part of his right leg. Like Mohammed, Amjad also did not see the soldiers that shot him. The bullet left a large hole in his leg, resulting in the need to spend two days in the hospital in Qalqilya. Due to the open-wound nature of his injury, and the time needed for it to heal properly, it is very likely that Amjad will be able to go to school again until next semester, which starts in February 2008.
Since the injuries of the two boys were caused by the Israeli army, the hospital is paying for the expenses of the surgeries and hospital treatment, but the families have to take care of all other costs such as doctor's treatment at home and the long physiotherapy needed in both cases. High expenses which can be very hard to cover for a Palestinian family.
According to both international human right laws and Israeli military law, it is absolutely forbidden for soldiers to shoot with live ammunition unless their lives are being threatened. Situations such as the throwing of stones by children are not considered as "life threatening," and thus live ammunition is not legally allowed to be used. IOF soldiers invading Azzoun have repeatedly breached international law in firing live ammunition against unarmed civilians and innocent bystanders.