Today marked the 134th consecutive demonstration in Bil'in Village against settlement activity on village land and against the building of the apartheid wall, which separates local villagers from their farmland. About 40 Palestinian, Israeli and international demonstrators participated this week. The weekly demonstration accompanies a legal challenge to the legitimacy of the attempt to expand settlements in the area, which recently resulted in the collapse of the Heftsiba real estate company, an Israeli firm which is responsible for much of the settlement construction and sales in the West Bank.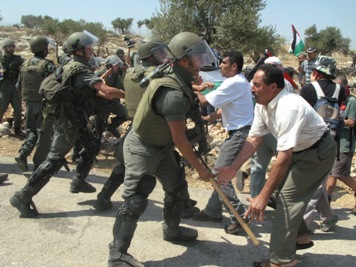 Soldiers Billy-Club Protesters in Bil'in
Protesters marched, sang and waved Palestinian flags as they approached soldiers waiting for them at the apartheid wall. Demonstrators managed to march to within 50 feet of the soldiers before soldiers threw the first wave of teargas. Many protesters stayed at the front of the demonstration, pushing away a barbed wire barrier designed to keep Palestinians from approaching their land. Despite the soldiers' attempts to disperse the crowd with teargas and sound bombs, many Palestinians along with Israeli and international supporters, continued forward. As several Palestinian men with their arms outstreched, showing that they had no weapons and no intentions of using violence, approached the soldiers, the soldiers took out billy-clubs and began beating them. One Palestinian man was beaten on his knees and one was beaten in three separate places on his legs. At this point, soldiers moved to grab the camera of an international woman filming the incident. They were unsuccessful in taking her camera, but detained her for one hour before allowing her to leave. Two Israelis were also arrested in the fray, and were still in custody at the time this report was written.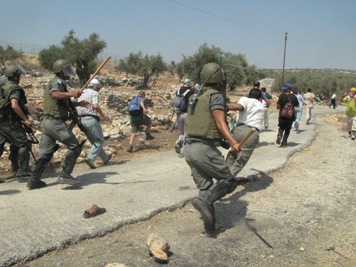 Two Palestinians Face Israeli Soldiers While Others Run From the Blows