By ASSOCIATED PRESS
JAYYUS, West Bank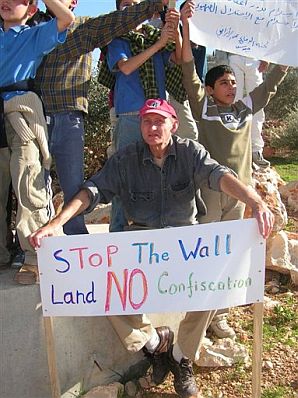 Palestinians throughout the West Bank expressed sorrow Saturday over the killing of American Tom Fox, 54, who had traveled to the West Bank to protest for their cause before he was taken hostage in Iraq.
Fox's body was found shot in the head and chest Thursday near a Baghdad railway station. He had worked with Christian Peacemaker Teams in the Palestinian areas before he began work with the group in Iraq.
Fox, from Clear Brook, Virginia, had demonstrated in the West Bank town of Jayyus against the construction of the security fence and he helped Palestinians pick olives, local Palestinians said.
"Tom used to sit in front of the (Israeli) bulldozers to block them," said Jayyus' mayor, Shawka Shamha. "Hearing news that he was killed makes me very sad."
Sharif Omar also from Jayyus said that Fox lived at his brother's house for three months while local Palestinians and foreign activists protested against the construction of the barrier.
"I'm very sorry to hear that he has been killed," Omar said.
Palestinians in the West Bank city of Hebron also remembered Fox. Neither Fox nor the Briton and two Canadians taken hostage with him deserved to die, said Hisham Sharabati, a human rights activist who met Fox.
"I'm calling for the kidnappers to release the other hostages," Sharabati said. "This killing harmed the Palestinian and Iraqi causes because the hostages were working for peace."
The two Canadians – James Loney and Harmeet Singh Sooden – also worked in the Palestinian areas.
When the four were taken hostage in November last year, the Palestinians' top Muslim clergyman, Mufti Ikrema Sabri, called for their immediate release.