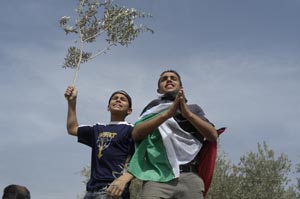 Just like many other Palestinian towns and villages, Beit Sira has it's share of grotesque Israeli annexation barriers and surrounding of isolating settlements. In this case Makabim settlement. An ongoing expansion of land theft has resulted in thousands of olive trees being uprooted and huge areas of agricultural land being cut off from the village.
Today Palestinians of Beit Sira village, accompanied by Israeli and international peace activist, held yet another weekly demonstration to protest against all of this.
The nonviolent demonstration took off from the village around midday and headed of for the fields where the annexation expansion is taking place. Demonstrators were met by military jeeps and about 50 to 60 soldiers, border police and shield equipped special forces. A prayer was then held in the fields. As prayers finished a group of about 10 Israelis and internationals took off to chain themselves to the olive trees and barbwired fences close to Makabim settlement. This was done as a symbolic protest against trees being uprooted and the absolutely vital land being stolen from Beit Sira village.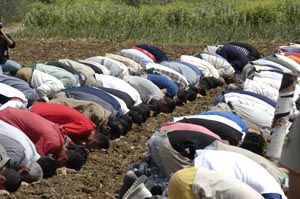 In spite of the rather large media presence soldiers almost immediately started to shoot teargas directly at the chained, seated and obviously harmless protesters. As the situation turned completely chaotic the chained protesters had to be aided and unchained. The soldier's violence escalated and they bombarded the demonstration with soundbombs and teargas, including a special type that spreads.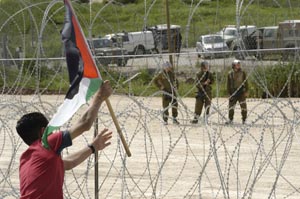 Five demonstrators got badly injured and taken away by ambulance, two by teargas, two by rubber coated steel bullets and the last one, eighteen year old Mahmood Monseer Khattab, was hit by a sound bomb grenade in his neck. A UPMRC-ambulance was also hit through the window by a teargas cannister, injuring the medical team inside.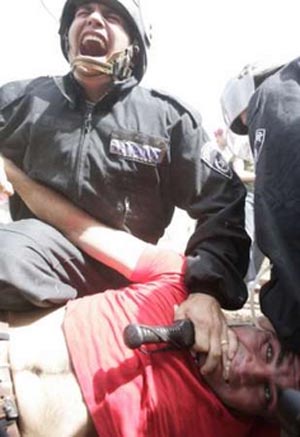 In retaliation Israeli soldiers broke two of this protesters teeth by hitting him with a club.