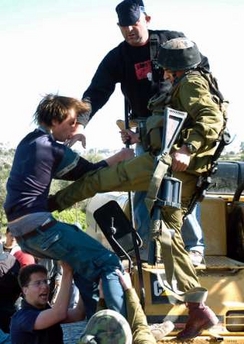 Photo: Reuters
A non violent victory has turned sour. The peaceful demonstration against the annexation barrier in Beit Sira is currently being attacked by the Israeli military with live ammunition and rubber bullets.
Matan, an Israeli activist on the scene, told ISM: "Not one stone was thrown. 10-year-old children are telling the six year olds not to throw stones."
Despite the villages discipline five residents have been wounded so far by rubber bullets – two of them in the head. One Israeli activist has been beaten and arrested by the military.
The military attacked the demonstrators after they succeeded in blocking the bulldozers from destroying their land.
The route of the wall in Beit Sira is designed to annex the Makabim settlement and more of Beit Sira's land to Israel.
For more information:
0544-383-627 In Beit Sira
Or the ISM Media Office 02-2971824