Every Saturday, Zionist settler tours take place in the narrow alleys of the souq in Al Khalil's (Hebron). These guided tours usually last for about an hour, and settlers are always accompanied by armed Israeli forces, intimidating local Palestinians who are trying to make a living by selling their goods in the market.
The tours began in 2008. At the moment they are usually made up of 50 or more settlers, accompanied by around 30 armed soldiers and border police.
Palestinians often have to stop and wait as the tour makes its way down the narrow streets of the souq. If they are allowed to pass at all, pedestrians are forced to walk through a crowd of settlers, soldiers and border police. Businesses in the souq are affected, as shopping streets are brought to a standstill.
On recent Saturdays, ISM volunteers have seen small children attempting to get past the tour, but repeatedly being told to wait by the army escort.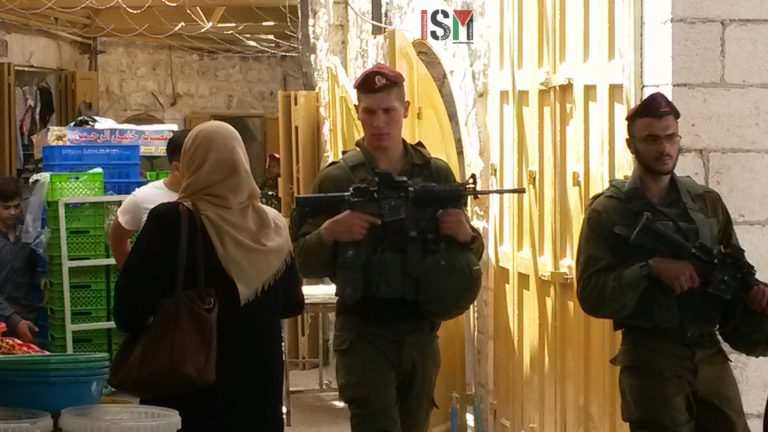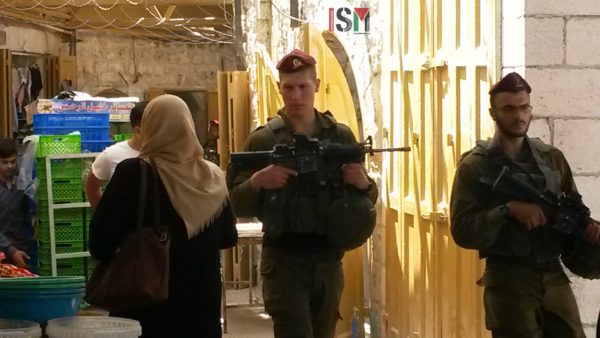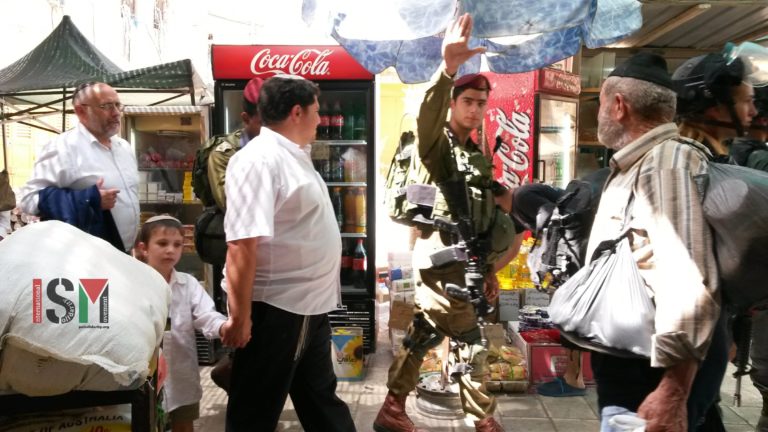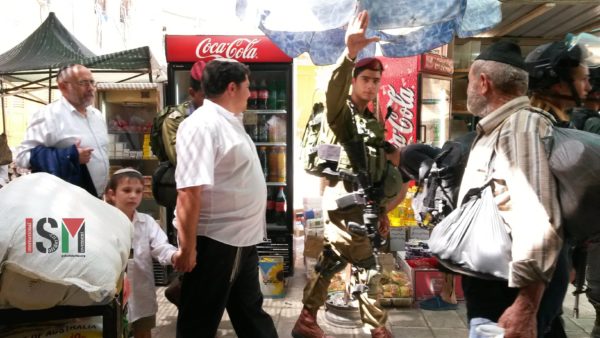 Each week international volunteers from ISM, the Ecumenical Accompaniment Programme for Palestine and Israel (EAPPI) and Christian Peacemaker Teams (CPT) walk ahead of and behind the tour, in an attempt to monitor and observe the situation. These observers often face harassment from Israeli forces. For example, on Saturday 5th May, after the tour had finished, six international volunteers were surrounded and detained by 13 paratroopers. The commander of the group demanded IDs from the internationals, and threatened that if they 'made problems', they would be imprisoned for one month, barred from Al-Khalil, or from entering Israel in the future. This is one small example of how the Israeli military works to prevent any scrutiny of its illegal occupation.
One shopkeeper in the souq told ISM, "We don't know the settlers' intentions in coming into our streets, why do they have to come here? Perhaps they are wanting to take over this area."
Another shopkeeper told us, "I really feel distressed and unsafe during the tours. Even though they have army units with them, some of the settlers carry shotguns. I think they come here [on the tours] because they think think this is their city. It puts a lot of pressure on us Palestinians. I have even seen the people on the tours spitting at international volunteers.
We never know when they are going to come, sometimes they come late afternoon. Sometimes, when there are hard times here, they even come at night."
Read more about the settler tours here  and here.