12th October 2015 | International Solidarity Movement, al-Khalil team | Hebron, occupied Palestine
Yesterday afternoon, two girls were arrested by Israeli forces in occupied al-Khalil (Hebron). International human rights observers documenting the ungrounded arrest were harassed by settlers in front of the Israeli police station.
Two young school-girls, aged 14 and 16, were stopped by Israeli forces at one of the many checkpoints at Ibrahimi mosque. Israeli forces accused them of having a knife and walked them to the police station at the Ibrahimi mosque. Both of them were eventually released after being taken to the police station in the illegal settlement of Kiryat Arba, which clearly illustrates that the arrest was based on a random accusation. Child arrests in the recent weeks have skyrocketed in al-Khalil, with children facing the threat of arrest at any given time of the day. The rights of Palestinian children in al-Khalil are continuously violated by the Israeli forces, with illegal arrests, ill-treatment during arrests and detentions as well as violent attacks with tear-gas, rubber coated steel bullets and live ammunition on children on the increase.
International observers, documenting the arrest, were accosted by settlers while waiting outside the police station to find out the names of the children. After about two hours of waiting, the infamous and violent settler Ofer called another group of settlers to come to the police station, amongst them the infamous and aggressive settler woman Anat Cohen. Immediately after her arrival, she confronted the international volunteers and stole a notebook from one of the internationals, attempting to hit her in the face and punch her several times.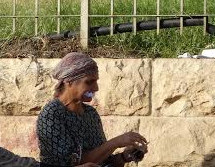 In order to make sure that the international would not be able to get her notebook back, Anat Cohen put part of it in her mouth and chewed it up. Even though all of this happened right in front of the police station, about five soldiers and two police men watching everything happen refused to intervene, even when the internationals present repeatedly asked them to stop the attacks. Instead, after they allowed the settlers to leave with the stolen notebook, they told the international to 'go to Syria'.
This again illustrates the total impunity settlers are granted by the Israeli forces for their actions, even if it involves internationals – who usually receive more protection under the law than do Palestinians.