by Team Khalil
7 January 2013 | International Solidarity Movement, Hebron, Occupied Palestine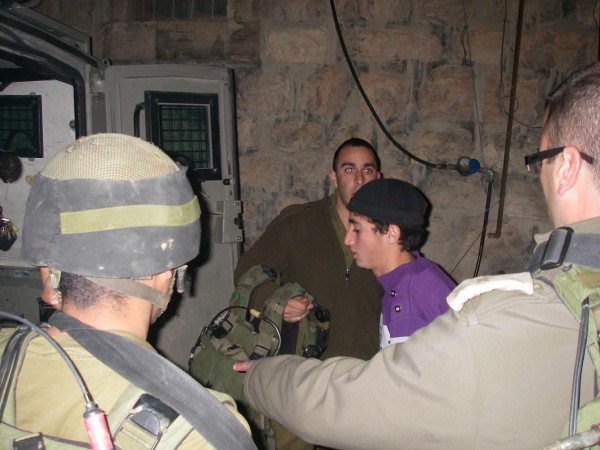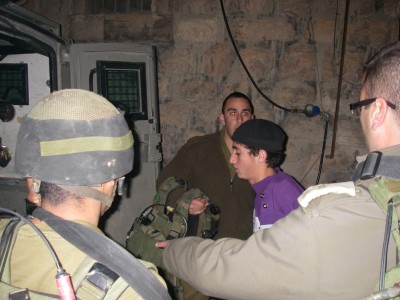 A 17 year old youth was arrested and 2 others, including a 13 year old boy, were detained at checkpoint 56 in Tel Rumeida, Hebron.
At around 8 pm on 7th February Israeli occupation forces soldiers detained three men, accusing them of throwing stones at the checkpoint. After an hour Munir Zehdeh, 17, was  arrested and taken in an army jeep to the police station at Givat Havot, near Kiyrat Arba in Hebron.
The other two Palestinians detained, one 25 year old from the Sharabati family and the other 13 year old from the Atrash family, were released without any charges after being held for an hour.
This is the second such incident at this checkpoint in consecutive days. People at the scene claimed that no one had thrown stones at the checkpoint. In the incident that happened the day before a 14 year old boy was detained for throwing stones when he was on a family visit with his mother. Bystanders said that the soldiers lie about youths throwing stones at them to arbitrarily detain Palestinians for no other reason than to harass them.
Checkpoint 56 is located on the boundary between the H1 Palestinian controlled area, and the H2 Israeli controlled area of Hebron, at the end of Shuhada Street. This checkpoint is the main entrance for Palestinians to access Tel Rumeida and is often closed on the whim of the soldiers stationed there. The soldiers regularly abuse Palestinians' rights to freedom of movement and routinely harass people passing through the checkpoint, making men take off their belts to pass through the metal detector and searching peoples' bags at gunpoint. This customary harassment increases tensions in this volatile location, close to where there are illegal Israeli settlements in the centre of a Palestinian city. Checkpoint 56 was the focus of Palestinians anger during the clashes between the shebab and Israeli occupation forces during the November 2012 Israeli assault on Gaza, and after Mohammad Ziad Awwad Salayme was murdered by the Israeli occupation forces on his 17th birthday near the other end of Shuhada street from  Checkpoint 56.
Team Khalil is a group of volunteers of International Solidarity Movement based in Hebron (al Khalil)