5 March 2012 | International Solidarity Movement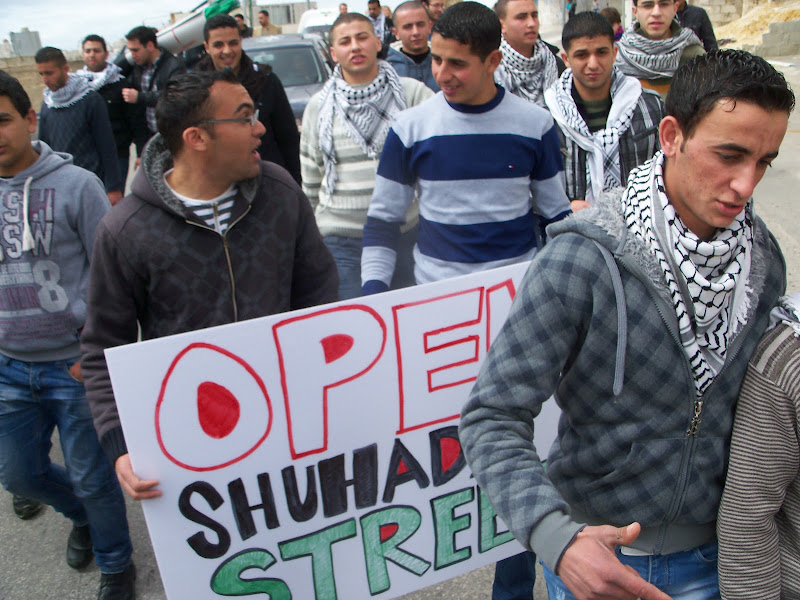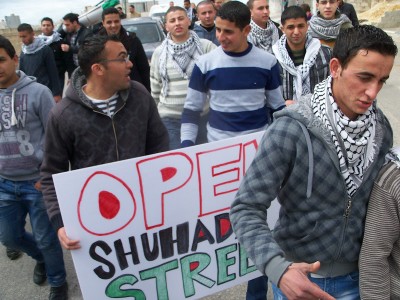 On February 20th, International Solidarity Movement put out a call for the international community to express their solidarity with the people of Al Khalil (Hebron) and the cause to open Shuhada Street. Individuals from all over the world took part in this symbolic campaign, which came just as locals in Al Khalil launched a week of activities and rallies to invoke the resilience of Palestine and its resistance against apartheid in their communities. Marking the 18th anniversary of the Ibrahimi Mosque massacre, which claimed the lives of dozens of Palestinians at the hands of extremist Zionists and the Israeli Occupation Forces that protect them, Al Khalil is restless and still marching as Zionism looms in the heart of the city in illegal settlements that house malice and violence.
As Palestinians and their supporters marched through Hebron on February 24th under the fire of tear gas and bullets shot by the cowardly Israeli Occupation Forces, which arrested protestors merely for their peaceful defiance of Israeli Occupation, the steadfastness of the people united and their message to Open Shuhada Street, was not only echoed in the ancient roads of Al Khalil, but throughout the world. Thank you for your show of support for the liberation of Shuhada Street. Together may we one day walk the roads of Al Khalil, without fear of harassment by Zionist settlers, without the profiling and discrimination by so called Israeli police, and without the shadow of Israel's hateful weaponry, staining the old stones of Al Khalil's soul.
In Solidarity,
International Solidarity Movement