by Rosa Schiano
19 March 2012 | il Blog di Oliva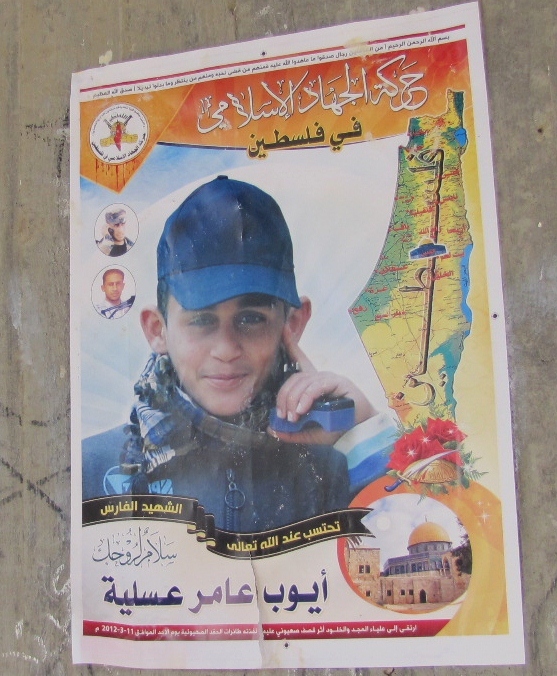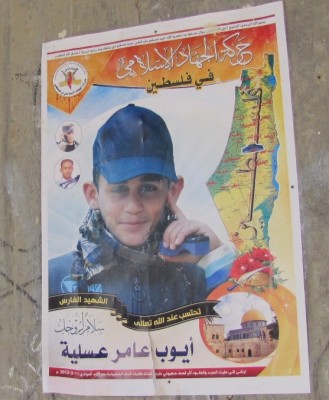 Ayoub Asalya, 12, was going to school on Sunday morning when he was killed by an Israeli missile. On the walls of his house there is a poster with his image. Ayoub is shown smiling with a cap on his head.
"The nights before he was killed, he came to me stating that he was afraid to sleep alone in his room because of the attacks," his mother told us.
So that night Ayoub slept in his mother's room, and he woke up early in the morning to go to school.
"Before leaving," said his mother, "he asked me to buy a new pair of shoes, and he told me that he would buy me a present for Mother's Day."
"After a few minutes I heard an airstrike, I ran outside, and I found an injured boy, Wafi, Ayoub's cousin, lying with his face on the ground. The ambulance arrived and transported Wafi to the hospital."
The personnel of the ambulances started looking for other potential injured and suddenly one of them started shouting "A Palestinian kid with a school uniform has been killed."
Ayoub's body was torn into pieces everywhere. A neighbor recognized Ayoub's face and he informed his family that he had been found dead. His mother started running and crying.
"I cannot think to have found my son, with whom I had spoken to a few minutes before, suddenly reduced into pieces. We found him without the lower part of the body. Now who will bring me a gift for Mother's day? The Israelis declared to have hit members of the resistance movement this means that Ayoub was throwing rockets? Where are the human rights of the Palestinian people? My message should reach the whole world; we should expel all the Israeli ambassadors from our countries."
Ayoub's mother took her son's schoolbag; she showed us his school books.
She then brings us to a place close to the house where the signs of the attack are still visible. Materials scattered everywhere on the ground. His mother begins to collect them.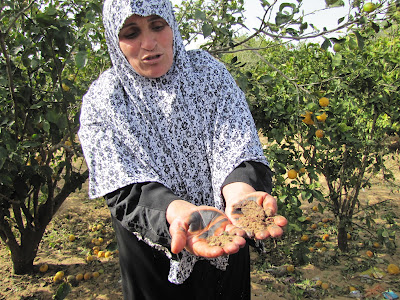 In her hands, together with pieces of the ground, small pieces of flesh, it is the flesh of her son's body, still there. She shows them to us. She kneels down and she collects some more. She approaches her hands to her face, she smells them. Then she smells them again and she turns towards another woman smiling and holding out her hands, inviting her to smell those pieces.
Her smile was full of love for her child. Her son is still there, in her hands, even if reduced in small pieces of flesh. Then she collected from the ground leaves and lemons, stained by his blood, and small pieces of his clothes. She would have continued to collect what was left of her son, if a relative had not intervened asking her to go back home.
A mother who picks up the remains if her son must be very strong, but her eyes cannot hide the terrible pain of his loss.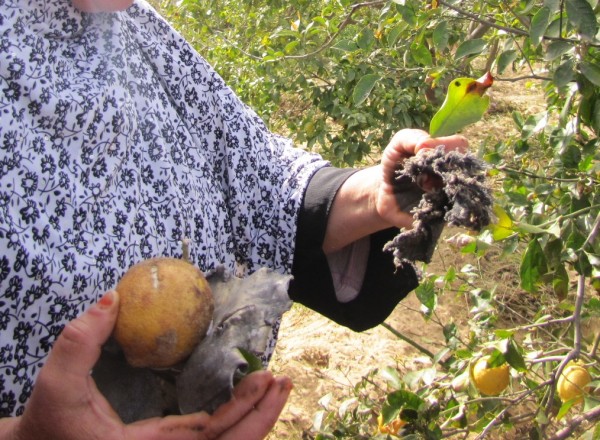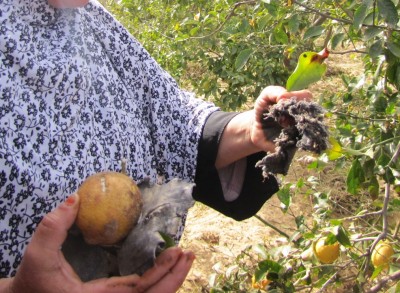 Before I left, she rubbed her hands on mine, tightening them, calling me "habibti", hugging me.
What I am describing is not a horror movie but the horrors caused by Israeli's shelling. However, the Palestinian people resist.
"Alhamdulilah," thinking to the future, tomorrow  the children will resume going to school and new lives will born, even under the sound of the drones and the F-16.
Rosa Schiano is a volunteer with International Solidarity Movement.