24 February 2012 | Press TV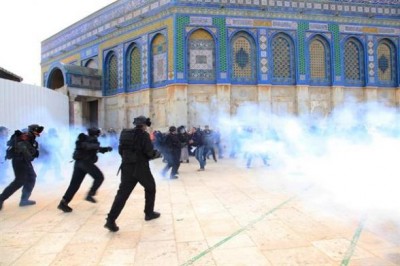 Clashes broke out after Israeli police fired tear gas and used stun grenades on hundreds of Palestinians who had gathered outside al-Aqsa Mosque following the Friday Prayers to protest against Israeli attacks on the holy site earlier this week. One man was killed amid protests in nearby Qalandia following the Zionist incursion into Al Aqsa.
Some reports, however, suggest that the attack came as Palestinians were praying. The clashes followed nearly a week of unrest at the holy site.
"We were praying when they started shooting tear gas towards us," 58-year-old Umm Mohammad told AFP.
Four Palestinians were also arrested.
Al-Aqsa Mosque, which is one of the holiest sites in Islam, has been the scene of clashes between Israeli troops and Palestinian worshipers since the occupation of Palestinian lands.
On Sunday, Israeli police attacked al-Aqsa Mosque and arrested at least 18 Palestinians after Jewish settlers clashed with Palestinian worshippers at the holy site.
Israeli troops also clashed with Palestinian worshipers in the area on Tuesday and Thursday.