25 February 2012 | Palestine News Network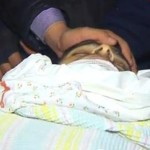 During a violent protest in which the IOF used live bullets, tear gas and rubber bullets, twenty five year old Talat Ramia, was shot in the shoulder and died later from his injuries. According to medics, five other protesters were injured.
An Israeli army spokesman said the incident was under investigation. The official said initial indications showed that one of the protesters had "fired fireworks at IDF soldiers from several meters away, putting the soldiers' lives in danger". The soldiers "responded by firing, injuring the Palestinian in his shoulder."
The demonstration was held in response to rumours of a possible raid by Israeli settlers of Al-Aqsa Mosque in Jerusalem today. Consequently there were violent clashes at Al-Aqsa mosque, in which four Palestinian people were arrested and more than fifteen sustained injuries from riot police.
This followed a week of unrest in Jerusalem, as the extreme Israeli group Likud threatened to break into the mosque last Sunday.
Al Aqsa Mosque is considered to be one of the most sensitive places in the Middle East and is considered the third holiest place in Islam, while it is considered by the Jewish as Temple Mount and is revered as one of the most sacred sights.
Witnesses stated that the police fired tear gas, forcing people to run inside for cover.
"We were praying when they started shooting tear gas towards us," 58-year-old Umm Mohammad told AFP by telephone from inside the Dome of the Rock.
"At first, they were shooting at the Al-Aqsa mosque but we hid in the Dome of the Rock, and now they have started firing tear gas and sound bombs towards the gates," she said.
Clashes continue this evening in Al-Rum, a town near Jerusalem city. Medical sources state that there are many injuries as the IOF are currently shooting live rounds.