by Yousef M. Aljamal
30 January 2012 | Centre for Political and Development Studies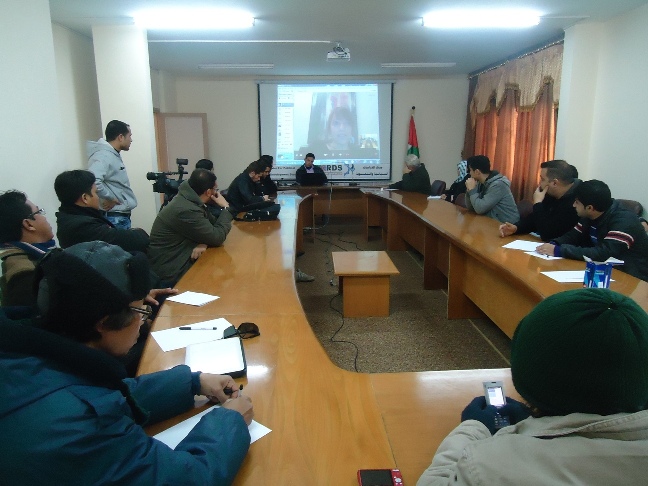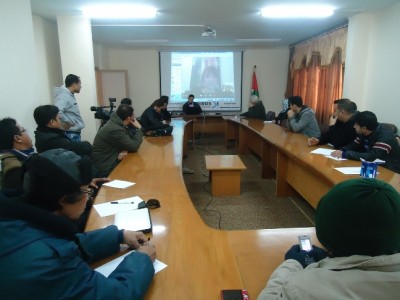 For the third week in a row, the Centre for Political and Development Studies (CPDS), a Gaza-based think tank, held a video link to explore issues related to the Palestinian cause, with the presence of Palestinian and international activists. Huwaida Arraf, the co-founder of  the International Solidarity Movement, chair of the Free Gaza Movement, and a prominent Palestinian-American activist, talked to Gaza activists about "The Palestine solidarity movement: Countering Zionist propaganda globally."
Choosing discourse to communicate with others is one of the basic requirements to get one's voice heard. Zionists have mastered this, while Palestinians have been misrepresented in the West. Ironically, Palestine's just story isn't getting out. "Through the years we have not done a very good job of conveying our plight, and that's largely because telling our story was left to our 'official spokespeople' who didn't know how to communicate well with the western media", said Arraf. "On the other side, Israel depends largely on PR, a fundamental part of its strategy. One of the biggest propaganda projects is The Israel Project. Its annual budget for last year alone was eleven million dollars. This is not counting the official support of the Israeli government, companies, and AIPAC".
"Israel is losing the PR battle for various reasons: law and justice are on our side, there is an increasing awareness among Palestinians, the growth of alternative media like Facebook and Twitter, and, I believe, the effect of the International Solidarity Movement", Arraf continued.
The second Palestinian Intifada, which was characterized by Israel's aggression against Palestinian civilians and the role of the media in covering it, pushed Arraf, with the help of other colleagues, to found ISM. It grew to include 8,000 activists, who have worked hard to expose Israel's grievous and vivid violations of human rights in Occupied Palestine.
"One of the reasons we founded ISM was because we noticed what was happening in terms of Israel's massive use of violence", said Arraf. "The media was not portraying the truth of what was happening. We realised that the Palestinian civil society, and Palestinians as a whole, especially after Oslo, needed a resource to be able to stand up and confront what Israel is doing".
ISM turned out to be something practical, not merely a plan on paper. Its first campaign included 50 people. Since then, over 8,000 activists have actively worked on the ground to help the Palestinian people.
"The first campaign started in August, 2001", said Arraf. "Fifty people came. We started another campaign. We tried to say the conflict is not about a religion against another. It's about freedom versus occupation. It's not Muslims against Jews. We wanted the mass media to know this. ISM aimed at forming advocacy groups and helping the Palestinian people sustain their struggle and get their stories heard".
Palestinians share values with all other nations, based on tolerance, understanding, and working together for the good of humankind.
"Once, I organised a meeting between a Palestinian farmer from Bodrous village in the West Bank, named Ayed Murra, and a Vermont senator on Capitol Hill", said Arraf. "We talked about how the wall affects farmers in the West Bank. We spent an hour talking to the senator, who lives in an area full of farmers".
Israel tries to tell the world that the entire Palestinian movement is Hamas. They play on an anti-Islamic atmosphere in the West. This clearly distorts history and the facts on the grounds.
"Hamas was founded in 1987" said Arraf. "What about the ethnic cleansing in 1948 and 1967? Op-eds and articles were written on Hamas accepting a truce with Israel.  In 2003, the late Palestinian president, Yasser Arrafat, arranged a ceasefire included all Palestinian factions. In the first two-and-a-half months, Israel killed 74 Palestinians and destroyed 480 Palestinian homes".
Absence of leadership is one of the things Palestinians are discussing today. "The current leadership does not represent the Palestinian people, particularly who live in the Diaspora", said Arraf. Elections should be held to represent the Palestinian people as a whole. This will help them win representation for their aspirations and dreams.
"The Palestinian leadership is gone, of course", said Arraf. "Direct elections to Palestinian National Council should be held. After years of not having a strong Palestinian official voice to be able to refer to in terms of what to do abroad, there came the unification of the Palestinian civil society in the form of BDS".
"CPDS is looking forward to work hand-in-hand with ISM to help the Palestinian people get heard", said Dr. Mahmoud Alhirthani, CPDS chairman. "It would be a good idea to organize lectures and courses with your help to make this idea a success".
Next Sunday, the General Union of Palestinian Students (GUPS) in the United Kingdom will talk with Gaza activists at CPDS on how to be a good ambassador of Palestine when in the U.K. This link is part of a programme named "For you, Palestine", aiming at drawing Palestinian people's attention to global issues that can help them represent their cause.