10 May 2011 | Huwaida Arraf, Noam Chomsky and Gabriel Schivone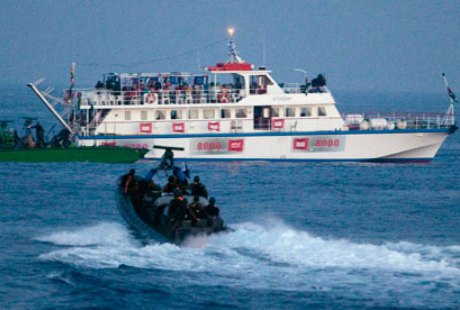 A year ago this month, Israel shocked the world when it attacked a humanitarian convoy on its way to Gaza in international waters, killing 9 civilians, injuring dozens more, and kidnapping hundreds. Today — as Hamas and Fatah negotiate internal unity and Egypt moves to permanently open Gaza's southern border, consequences of the Arab Spring — the international solidarity movement musters an even greater flotilla of ships to challenge Israel's illegal actions against the Palestinians. As anticipated, Israel promises to do everything it can to once again stop an organized, nonviolent force of civil society standing with Palestinians in their struggle for equal rights and self-determination.
Threatening to hijack boats in international waters and kill or kidnap passengers is, of course, a serious crime. But Israel's threats and actual uses of force are nothing new. For decades, Israel has been hijacking international vessels throughout the Mediterranean and kidnapping or killing passengers. To understand the current situation involving civil resistance to Israeli policy, a glance at Israel's aggressive history in international waters is in order.
In 1976, according to Knesset member Mattiyahu Peled, the Israeli Navy began to capture boats belonging to Lebanese Muslims — turning them over to Lebanese Christian allies, who killed the owners — in an effort to abort a movement towards reconciliation that had been arranged between the Palestine Liberation Organization (PLO) and Israel.
Then after a prisoner exchange in November 1983, a front-page story in the New York Times mentioned 37 Arab prisoners who had been held at the notorious Ansar prison camp, and who "had been seized recently by the Israeli Navy as they tried to make their way from Cyprus to Tripoli [Lebanon]."
In June, 1984, Israel hijacked a ferryboat operating between Cyprus and Lebanon five miles off the Lebanese coast with a burst of machinegun fire and forced it to Haifa, where nine people were removed and held, including one woman and a schoolboy returning from England for a holiday in Beirut. Two passengers were released two weeks later, while the fate of the others remained unreported.
In its report on the Israeli "interception" (more accurately, hijacking) of the ferryboat, the Times observes that prior to the 1982 war, "the Israeli Navy regularly intercepted ships bound for or leaving ports of Tyre and Sidon in the south and searched them for guerillas," as usual accepting Israeli claims at face value. Syrian "interception" of civilian Israeli ships on a similar pretext might be regarded a bit differently.
On April 25, 1985, several Palestinians were kidnapped from civilian boats operating between Lebanon and Cyprus and sent to secret destinations in Israel, a fact that became public knowledge (in Israel) when one was interviewed on Israeli television, leading to an appeal to the High Court of Justice for information; presumably there were others, unknown.
In late-July 1985, Israeli gunboats attacked a Honduran-registered cargo ship a mile from the port of Sidon, delivering cement according to its Greek captain, setting it ablaze with 30 shells and wounding civilians in subsequent shore bombardment when militiamen returned the fire. The mainstream press did not even bother to report that the following day Israeli gunboats sank a fishing boat and damaged three others, while a Sidon parliamentarian called on the UN to end U.S.-backed Israeli "piracy."
It is considered Israel's prerogative to carry out hijacking of ships and kidnappings, at will — with the approval of opinion in the United States — whatever the facts may be.
When a popular nonviolent uprising by Palestinians in the occupied territories began in December 1987, Israel responded with harsh violence, mass beatings and deportations. After Israel ignored a January 1988 United Nations Security Council resolution calling on the state to "ensure the safe and immediate return" of deportees, the PLO organized a Ship of Return for 130 deportees to sail from Cyprus to Israel. More than five hundred international supporters and journalists also intended to sail — including Israelis who risked arrest for boarding the ship.
Menacing reactions to the ship plans by Israeli heads of state were reported and passed without comment by the major media. Prime Minister Yitzhak Shamir called the planned voyage "a declaration of war" — remarking the ship would be carrying "murderers (and) terrorists" — while Defense Minister Rabin added that Israel was "compelled not to let [the organizers] achieve their purpose, and we will do that in whatever ways we find."
Following Israel's vows to prevent the voyage, the ship was bombed in port before sailing. After the explosion, the Times quoted an Israeli Transport Ministry official who remarked that, should another ship attempt to sail against Israel's will, "its fate will be the same."
The next attempt came twenty years later, in August 2008. This time it was the newly formed Free Gaza Movement, a group of international Palestinian solidarity activists, who decided to gather ships to violate Israel's criminal siege of Gaza, imposed after Hamas was democratically elected in January 2006. Shortly before the ships sailed, leading Israeli newspaper Ha'aretz reported on discussions of defense officials who concluded that "allowing the ships to reach the Gaza Coastline could create a dangerous precedent."
Despite Israel's threats to stop the voyage, two small fishing boats, "Free Gaza" and "Liberty," successfully reached the Gaza coast, becoming the first vessels to reach Gazan shores in over 41 years. The Free Gaza movement would organize four more successful sea voyages to Gaza over the next four months. During and in the months following Israel's massive 22-day assault on Gaza in December-January 2008-09, which killed more than 1400 people, Israeli naval forces violently thwarted three Free Gaza vessels, culminating with Israel's massacre of civilians aboard the Gaza Freedom flotilla last May.
Israel has arrested, beaten, gassed, tortured, deported and killed internationals — essentially a taste of the measures it inflicts daily against the Palestinians. But nothing has succeeded in deterring the international solidarity movement from resisting Israel's violence and aggression, and nonviolently supporting the Palestinian freedom struggle. Despite the impunity with which Israel operates, thanks to firm U.S. support and participation, civil resistance to Israel's actions continues to grow exponentially.
International law looks good on paper, but its enforcement requires political will. As the Civil Rights and other social change movements in the United States and elsewhere have shown, citizen action is an important part of creating political will, limited only by the choice to act. People acting together in the name of freedom, human rights, and democracy, can constitute a powerful force that even the most oppressive regimes cannot withstand.
The success of the next flotilla — and all those to follow — will largely depend on the will and choice of the international community to resist U.S.-backed Israeli crimes in the occupied territories and on the sea — and to stand with Palestinians until the death and the suffering ends and a lasting and honorable peace is achieved.