24 April 2011 | Ma'an News Agency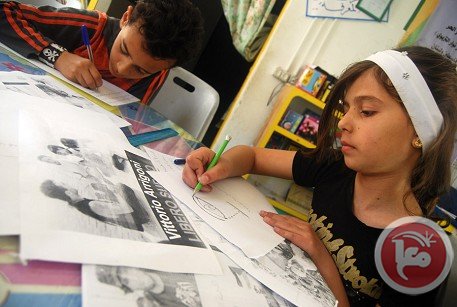 Children in southern Gaza spent Saturday drawing pictures to honor slain Italian activist Vittorio Arrigoni.
Over a hundred children and their mothers participated in the memorial event, organized by a charity in Khan Younis.
Children also wrote letters expressing their condolences to Arrigoni's mother. The letters would be sent by email, and would include an invitation to the activist's mother to visit the coastal enclave "and see how the people love and appreciate her son," organizers said.
"We wanted to tell, through drawings, that we are a people who love peace and what happened was nothing to do with our religion or morals," 11-year-old Tasneim Al-Farra said.
"I cried after I learned that the man had abandoned his homeland and came to defend us. He deserved to be honored, not murdered," she added.
Asmaa Khalafallah, 12, said she would never forget Arrigoni, and that he would "live forever in the minds of Palestinian people."