29 March 2011 | Lydia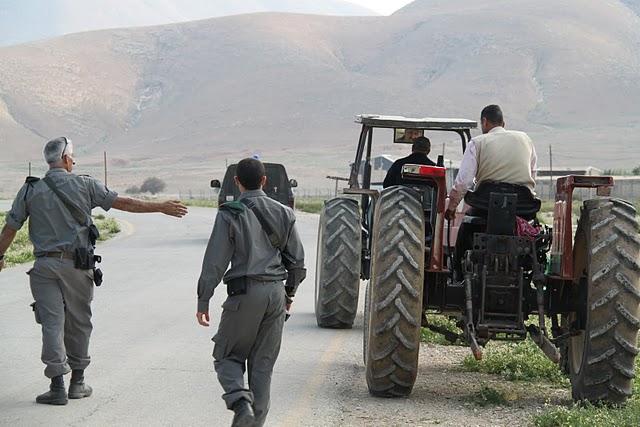 At approximately 7 am this morning the Israeli army entered the village of Al Jiftlik. Soldiers went door to door ordering all tractor owners to bring their farming vehicles to the closed military zone between Miswa settlement and a nearby Israeli army base, where they had set up a temporary base.
The Palestinian farmers and their tractors were forcibly escorted to the temporary military base in the closed military zone. There they were kept under the surveillance of Israeli soldiers, police, and a private military company. Approximately forty tractor owners were questioned, and their ID's and vehicle ownership were checked. They were made to stand next to their tractors, after which soldiers photographed and filmed the men with their vehicles. All people were informed that their tractors would be confiscated if they proved unable to provide proof of ownership.
The forty farmers had to wait in the sun for up to 7 hours to find out the army's decision on what would happen to their farming vehicles. At 3 pm four owners were ordered to drive their tractors into the military camp (next to Al Jiftlik), escorted by military police and police vehicles. When one of the farmers refused to do so he was arrested, but released several minutes later on the condition that he would drive his tractor to the camp anyway, which he did. The four tractors were confiscated and kept inside the military camp after the farmers brought them there.
Faris, one of the farmers who had to bring his tractor into the military camp, said his tractor cost him 40.000NIS; "All the money I collected from farming, I put into the tractor." He also indicated that he will be unable to continue farming his land without having a tractor.