3 March 2011 | International Solidarity Movement, Gaza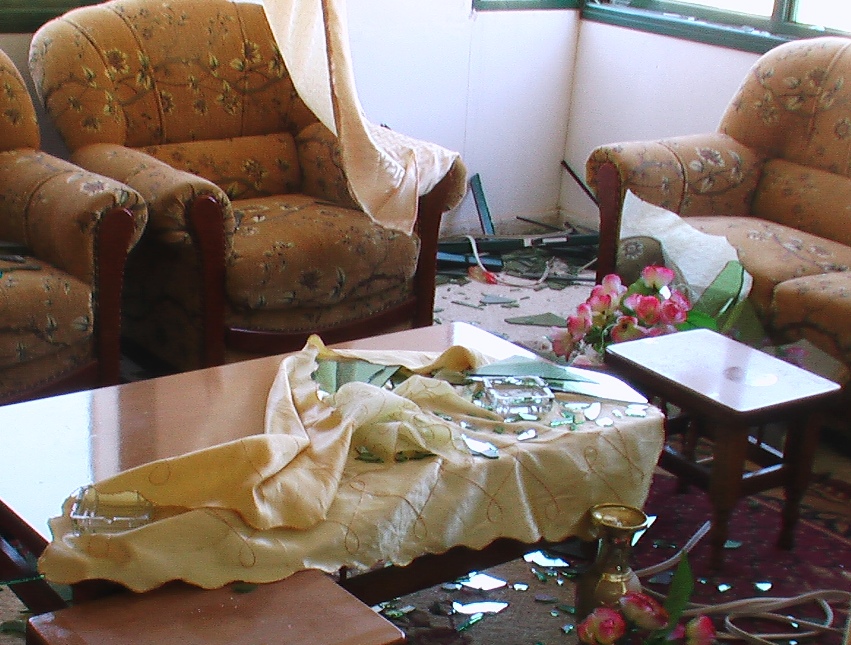 On February 26, Jamal Abo Hiatham Sharikhi (33 years) had his home destroyed by bombing from the Israeli military, and his 18-month old daughter was injured on her head by broken glass. He described the experience in this way: "It was 2 o'clock in the afternoon. I was sleeping near the window, and my 18-month old daughter was sleeping next to me. I woke up terrified by an explosion very close: the window was shattered and my daughter was bleeding from the top of her head. When I cleaned her, I realized that there was a piece of glass embedded in the skin. Then I took her to the hospital." Medics removed the glass and instructed him on how to care for the wound.
The windows of his house were completely destroyed: it's now impossible to close the door to the terrace and his home is full of glass over the floors, carpets, mattresses, and blankets. When the children came into the house they continued to be hurt by the glass. For this reason the family has temporarily moved to live with relatives. The explosion occurred a few tens of meters from the home of Hitiam, in a former military compound hit so many times that now it is now empty and abandoned, but the blast was enough to destroy all the windows of the building where Hitiam and his daughter were sleeping, from the second floor where he lives to the ground floor where his mother Shafiah, 57-years-old, lives.
"I was sleeping and was also hit by the glass," she said, "I was luckily protected by a blanket. Then I saw a large black cloud rising from the explosion. My son looks strong, but I know he is destroyed by what has happened to his daughter. "
This is not the first time Israeli violence has hit this family. Hitiam's first wife was killed in 2007 while coming from Beit Lahya, trying to join her husband because the situation in the north was becoming dangerous. Her two children were traveling with her mother when a car that was hit by an Israeli bomb exploded near them. The mother and the driver were killed. When they brought the corpse of the mother to the hospital, she was still holding fast to her daughter of 15 days, and doctors struggled to separate her from the mother.
The girl injured Feb. 26 comes from the second marriage of Hitiam, which occurred after the death of his first wife.
Also on February 26 at about the same time Israeli bombs reached the Burej refugee camp, fortunately without causing any injuries.