8 September 2010 | ISM Gaza
Peace talks started on September 2nd. Following the resumption of negotiations, Israel refrained from attacking Gaza for just 2 days. Then it ordered the bombing of 2 Rafah tunnels, killed 2 workers, and left 2 severely injured. ISM activists filed this report

"Out of the blue, the tunnel was bombed, there was an enormous crash and I fell unconscious, I didn't feel anything. When I woke up, I found myself at the tunnel entrance, screaming for help. There was fire all over the place, fire over me."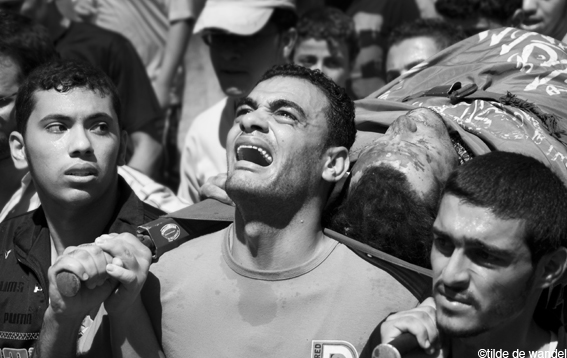 This was 22 year old college student Ali Al-Khodary describing the horror of Israel's bomb attack on Gazan tunnels four days ago (4 September 2010 – two days after 'peace talks' resumed) which left him and another man, Hassan Abu Armana, covered in severe burns. The bombing set alight the entrance of the tunnel – where they were delivering gasoline.
Yet it could be said that they were lucky. Two of their co-workers, Salim Al Khatab and Khaled Halawa, were killed in the same strike. According to witnesses, at 11:30pm Saturday night, Israeli F16s flew over the area to observe it. At midnight they returned and bombed 2 tunnels, one a tunnel for gasoline and the other for delivery of goods into Gaza. The missiles they used were silent in flight, making it impossible for people to escape. Each pierced a large hole in the tunnel before exploding inside.
"I was at a house above ground and the owner took me to hospital", explains Ali. "The medics came inside and pulled out another person, also burned. I heard later that 2 people were still trapped in the collapsed tunnel."  Large parts of Ali's body were severely burned: he had 3rd degree burns covering his face, hands and arms.
His father, Alaa Al-Khodary, was against his son working in the tunnels. But to continue his studies (in sociology, at the University of Al Quds) Ali needed a source of income. "I started to work in the tunnels because there are no jobs in Gaza, there was no place else to work in this region." said Ali.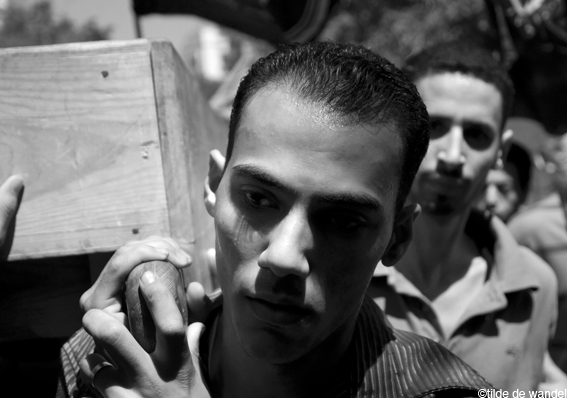 "Thank god he came out in one piece. We hope he will recover from his injuries and the burns", his mother told us.
Tunnel workers are not just young men, Hassan Abu Armana, 45 years old and married with 12 children, also suffered second degree burns stretching from his chest to his head and across his arms. He started working in the tunnels 3 or 4 months ago in an attempt to earn more money for his family than he could in his previous job as a taxi driver. When his wife was informed of the attack, she was terrified and ran immediately from the house to take a car to the hospital.
Nineteen year old Khalil Muhammad Al-Hattab from Bureij Refugee Camp, central Gaza, did not survive. He had decided to begin in the tunnels only 3 weeks before. When we visited the mourning tent in Bureij, his uncle, Hussien Al-Hattab, told us that Khalil was killed while working at the petrol tunnel and was burnt to death once the petrol caught alight. Khalil had a large family who were very poor; he had wanted to contribute to his family's welfare, so he took the job.
When Khalil's brother, who had been working in the tunnels for over 4 years, heard about the bomb he went to search for his brother and began digging for him. After over an hour, 30 metres below the ground, he saw some of his brother's body and he was able to bring him up.
His uncle Hussien also had a brother, Gazy Badowy Al-Hattab, killed when he was 19 – during the first intifada. He was walking in the street with his sister when he was shot during an Israeli Incursion.
"Israel can't reach the armed resistance in Gaza so they just attack civilians", Hussien told us.
The second person killed was 35-year-old Khalid Abed Al-Kareem Al-Khateeb, married, and the father of three daughters and one son. His brother told us he was killed directly by the missile's impact, in the goods delivery tunnel where the workers were operating. Their family discovered this at 2am early Sunday morning. Then they went to the hospital to see his body and take it back to Al-Bureij. Khalid also had a brother, Waleed Al-Khateeb, killed in 2003 during an Israeli incursion on Bureij camp.
"Israel wants complete control of the people of Gaza with the siege and bombings. Israel decides what it wants to do against us no matter how violent, with full support from America. The situation is so bad, if people were allowed to leave they would because of this oppression," says Alaa, the father of the badly burned Ali.
"Why are tragedies allowed to continue like this?"
For much of the Western media the 2 dead Palestinian workers and 2 severely injured during the Israeli Occupation Force bombings in Rafah on Saturday night were merely faceless, disposable lives of the Middle East "impasse". Meeting their distraught family members reminds us that they are brothers and fathers loved by their families, guilty only of having hopes for a better life when all their educational and job opportunities have been taken away from them. They were driven to work in the tunnels transporting goods from Egypt to Gaza not because they wanted to, but because of the dire conditions imposed on the Gaza Strip, which have seen their economy and infrastructure intentionally sucked dry by the four year Israeli siege.
But Palestinian civilian loss of life – even in violence that occurs at a time when Israel is presenting itself as in pursuit of peace – is apparently acceptable to the international community and to the Western media, as compared to the outrage that erupts over the much rarer cases which involve Israeli casualties. When the same scrutiny of, empathy with, and action to prevent Palestinian casualties exists, and the siege on Gaza, the 47 years of occupation and the 62 years of dispossession of Palestinian land are taken seriously as the crimes they are, the day might come when Middle East peace summits attempt real justice for the people of Palestine.
All photos: Tilde de Wandel