International Solidarity Movement
This morning, Thursday 5th August, the Israeli Civil Administration authorities in the Jordan valley demolished the village of Al Farisiya for the second time in two weeks.
This morning at 6:30 the army arrived in the village with two bulldozers and 13 jeeps, evacuated the villagers and destroyed 26 homes in one hour, making an estimated 170 people homeless. They beat two people with sticks but there were no serious injuries.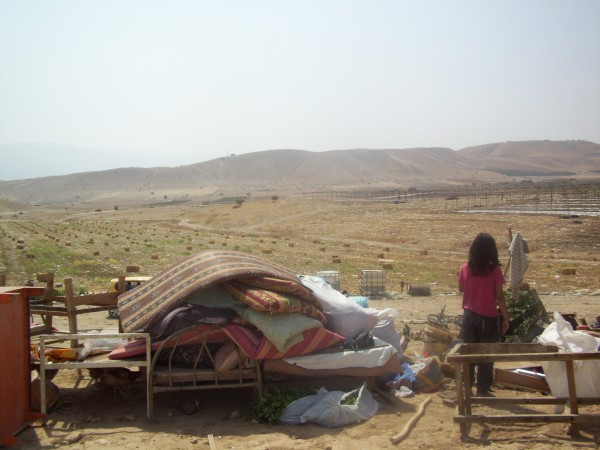 The villagers had just been able to rebuild the damage that was done on 19th July when 23 homes were demolished and over 91 made homeless.
Latest reports today indicated that water pipes connected by Life Source in the last two weeks are still in tact.
When ISM activists arrived in Al Farisiya the village committee were discussing how and where to rebuild when the chances of another demolition are so high. The inhabitants are of course very angry and tensions are high. International presence will be needed there constantly in the coming weeks.
Today's demolitions followed an incident on Tuesday when, according to the Ma'an News Agency, the army confiscated the village's tractors.
The Jordan Valley was designated as Area C by the 1993 Oslo Agreements, along with 60% of the West Bank, giving Israeli full civil and military control. Israel justifies demolitions by stating that the buildings were constructed illegally.
However the United Nations Office for the Coordination of Humanitarian Affairs has pointed out that it is nearly impossible for Palestinians to obtain building permits in Area C.
Amnesty International has called on Israel to stop demolishing Palestinian homes, and voiced fears about an apparent policy of ethnically cleansing Area C. saying: "These recent demolitions intensify concerns that this is part of a government strategy to remove the Palestinian population from the parts of the West Bank known as Area C."
Coordinator of the Save the Jordan Valley campaign, and village council member, Fathi Khdeiri described the demolitions as an "attack by occupation forces and an attempt to displace the residents of the Jordan Valley."