Popular Struggle Coordination Committee

8 January 2010

For immediate release: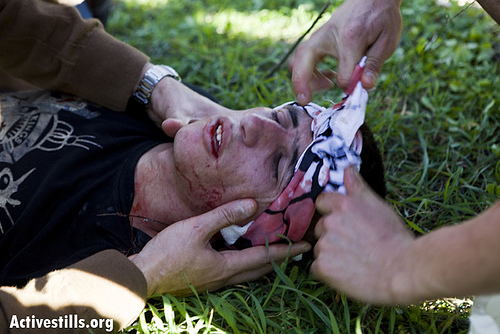 As part of a recent surge in popular protest in the West Bank, about 300 demonstrators occupied and blocked the main road in near the Halamish settlement for over two hours. The demonstrators, twenty of which were injured by rubber-coated bullets, protested recent land grabs.
About 300 people took to the street today in the West Bank village of Nabbi Saleh, north-west of Ramallah, in protest of recent land grab by the adjacent Jewish-only settlement of Halamish. The protesters occupied and blocked the main street leading to the settlement, and amidst clouds of tear gas and whizzing rubber-coated bullets, managed to hold it for over two hours. A group of demonstrators also managed to reach the area that was recently taken over by settlers.
Settlers who came down from Halamish threw stones and shot live rounds of demonstrators. Soldiers who were present took no actions to stop them. Following the demonstration the army invaded Nabbi Salleh, where clashes ensued.
Twenty of Nabbi Saleh's residents were struck by rubber-coated bullets, and dozens suffered from tear gas inhalation.
Bassem Tamimi, one organizers of the demonstration said that "For three weeks we have been prevented from reaching our land for because of the settlers who occupied it. In any reasonable place, we would be allowed to just drive them out by force, but they have the army on their side even though the law is on our side. Under the occupation we are not even allowed to merely protest".
Demonstrations were also held today in N'ilin, Bil'in – where a journalist and a demonstrator were lightly injured, and in alMaasara where the army invaded the village.